https://www.instagram.com/p/CYjhgU0O8ak/
Grammy-winning country music superstar Maren Morris has made a triumphant return to the music scene with her new single, 'Circles Around This Town.' The single serves as the lead single off her upcoming studio album and can be streamed and purchased on global streaming platforms.
Maren Morris had a stellar start to this year as 'Circles Around This Town' became the most added single at country radio in the premiere week and set a new record on Amazon Music for garnering the most streams for a country song debut by a female artist. Furthermore, it topped Pandora's Top Thumbed Hundred Chart, becoming the #1 country song, and debuted at #7 in the all-genre list.
Seeing such a massive triumph for female artists feels so empowering and inspirational, and we are here to celebrate the success. Kudos!
This song, produced by Greg Kurstin, showcases her impressively lush, powerful, creative, and ambitious vision for the upcoming album; and it features acclaimed songwriters and frequent collaborators such as Ryan Hurd, Julia Michaels, and Jimmy Robbins. Her new album incorporates more of the Texas rootsy style she grew up listening to, and it will be more joyful, introspective, and inspiring.
She emerged as a leading force in the country music industry with her progressive, bold, and eclectic style and carved out a niche unlike any other. Her innate ability to transcend genres and distinctive voice, along with her impressive songwriting skills, quickly earned her a reputation as a well-rounded musician. Her songs effortlessly tap into universal emotions and human experiences through lyricism. From vulnerable songs to strong and empowering anthems, she has now established herself as one of the most recognizable female voices of the modern music era.
This song highlights her journey as she sings about her humble beginnings- from being an unknown songwriter to rising and becoming one of Nashville's biggest stars. As she chronicles her journey, she reminds herself that she only had a few demos, lyrics, and the deposit for her apartment at the beginning. While she encountered challenges and setbacks along the way, she never lost sight of her massive dream and kept the fire alive in her heart which fueled her drive to succeed. Thank God, she was an optimist!.
"Couple hundred songs and the ones that finally worked
Was the one about a car and the one about a church
That I wrote"
She pays homage to her previous superhit singles '80s Mercedes' and 'The Church' as she croons the exuberant, high-spirited chorus. In "driving circles around this town," she sings about maintaining her optimism while hustling and relentlessly pursuing her dreams. She strives to make authentic music that is true to herself and her listeners while remaining faithful to her roots. She still got the pedal down!
Overall, this song is a magnificent guitar-heavy masterpiece dedicated to everyone who has taken risks in their lives and stayed unstoppable. We are curiously waiting for the upcoming music while jamming to this new gem.
Directed by Harper Smith, the music video for 'Circles Around This Town' has hues from her previous videos. The video has a vintage style with a grainy aesthetic reminiscent of 90s videotapes. It opens with a TV commercial playing as we hear a woman beckoning, "Hey, little brunette pacing around that kitchen, yeah, I'm talking to you." Here comes Maren, driving around the city singing and looking for an apartment. We jumped on the passenger seat to ride along with her and witnessed her journey from Texas to Nashville smashing through the struggles with an optimistic, carefree perspective on her life. As viewers see little notes as messages in the video depicting as 'signs of the universe,' they are left with the question: 'Is the universe showing you signs, or do you just feel when things need to change?'
And We Can' Stop Singing To:
"So many times I thought about leaving/ Got my ass kicked trying to compete with
Everybody else's ones that got away/ Hung around long enough to catch a break"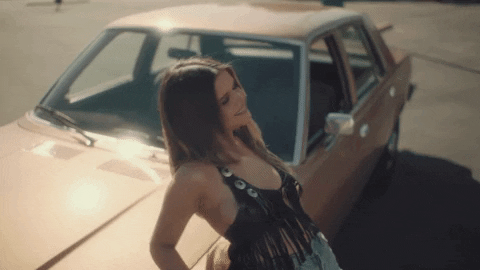 "Thought when I hit it, it'd all look different/ But I still got the pedal down
I still get lost, I still get found/ Driving circles around this town"
And Now, We Wait…
Are you impressed by Maren's newest single, and what do you think of her upcoming studio album? Are you as excited as we are at The Honey Pop? Comment down below or tweet us at @TheHoneyPop! Want the daily drip? Get the latest pop culture news and inside scoop by following us on Instagram and Facebook!
Searching for more poppin' tunes for your ears? Buzz over here!
Join our exclusive fan community: 'The Hive' – by fans for fans!
TO LEARN MORE ABOUT MAREN MORRIS:
FACEBOOK | INSTAGRAM | SPOTIFY | TWITTER | WEBSITE
Khushboo Malhotra
Khushboo Malhotra works as a freelance journalist, digital marketing & media strategist, and content marketer featured in various global and national media publications and works alongside B2B, B2C, and eCommerce brands. A wide range of her work spans music and entertainment culture, sustainable lifestyle (including sub-niches), and SaaS. She enjoys writing novels and designing screenplays, grooving at concerts, or exploring new fashion and cuisines that tickle her taste buds when she is not working. Have a story? Get in touch: khushboomalhotra24@gmail.com