MARVEL fans, this is not a drill! Go as fast as you can and press play on your devices cause the movie we all have been waiting for and have loved is finally coming to our homes! Everyone, Eternals is finally on Disney+!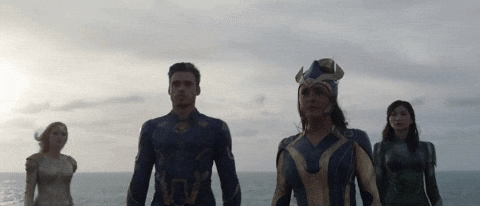 One of the most wonderful, mind-blowing, and newest stories from the Marvel Cinematic Universe has arrived on Disney+, and we can't wait to get together with all of our mutuals and see what Chloé Zhao prepared for us!
Our Heroes Are Home!
Eternals is the story behind our new favorite group of heroes who have been the Earth's protectors since the start of time. The movie shows us how this group protects our dear planet Earth from the Deviants, monstrous creatures that are putting the existence of humanity at risk.
With an incredible and super mega-talented cast, this movie has taken our hearts with all the surprises and adventures it takes us on! It's truly one of the most worth it movies 2021 has brought us! And, having it in one click has made our 2022 better!
Watch the movie with Disney+ HERE!
What are you waiting for? Stream this exciting movie on Disney+! Tell us who you're planning to have your MCU party for Eternals with! Chat with us in the comments and don't forget to vibe with us on our Twitter @TheHoneyPop!
Want more movie recommendations? Trust us!
TO LEARN MORE ABOUT ETERNALS:
FACEBOOK | INSTAGRAM | TWITTER