Most big stars on the modern music scene get a decent amount of online hate, and Machine Gun Kelly is no exception. But while certain tracks on his Hotel Diablo and Tickets To My Downfall albums admit some of the criticism takes a toll on him, he's mostly found a way to laugh it off and turn it into a viral moment instead. Kells is constantly inspiring us to shrug off the doubts and negativity thrown our way to focus on our passions and the good things in life instead. Here are five times he did just that and proved how unbothered he is by the noise!
[apple_music_ad artist="Machine Gun Kelly"]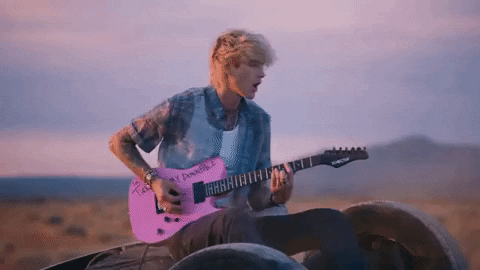 When He Renamed His Album Mainstream Sellout
The born with horns era was in full swing after MGK released 'papercuts' in August 2021, and he even got matching "born with horns" tattoos with his friend and executive producer Travis Barker! So it was a pretty big deal when he changed the album title to Mainstream Sellout, seemingly poking fun at critics and skeptical fans who think the success he's found from Tickets To My Downfall changed his artistry and who he is as a person. Right after announcing it, he tweeted "i am whatever you say i am," which we think is pretty legendary behavior. It'll also clear his searches – if you Google something like "Machine Gun Kelly sellout," it'll just bring up his album instead of hateful think pieces.
When He Gave In To The Memes
After Colson proposed to Megan Fox earlier this year, the internet was buzzing for two different reasons: to celebrate their engagement and to poke fun at his striped shirt. One viral tweet compared it to a Foot Locker worker uniform, and after Foot Locker tagged him, he replied with a string of laughing emojis. We love that he laughed along rather than being upset by the jokes!
When He Shrugged Off Anti-Pink Haters
Aside from his music and acting, Kells is known for his bold fashion choices, including a bright pink suit he wore to the 2020 MTV Video Music Awards. While a lot of people applauded his look and thought it was a really chic outfit, others had some pretty rude things to say about the color. But did he really care what they thought? Nope! He took to TikTok to question why people are "still scared of pink in 2020" while donning pastel pink nails.
When He Totally Nailed His Marketing
Speaking of his pink nails, Colson has caught even more flack for his vibrant nail designs, which we'll never understand. Who could be so bothered by a coat of color on someone's hand? Anyway, he was well aware of the backlash while he was curating his UN/DN Laqr nail polish brand. He even turned it into genius branding – he explained to Allure:
I was doing it to make "his nails" a constant headline knowing that we had UN/DN coming out, knowing that we had a product that revolved around what the headlines kept pointing out about me. This is something that you associate with me subconsciously, because whether you hate it or love it, for about a year and a half or two years, it's been "MGK's nails."

Machine Gun Kelly
When He Made It Clear He Didn't Ditch Rap
As much as we adore MGK's current pop-punk sound, others aren't as impressed and prefer his rap. Some don't even like either, insisting he only "switched genres" because of a notorious rap feud that gave him some negative publicity. But true EST knows that he's been making rock-influenced music throughout his career – see songs like 2012's 'Save Me' with M Shadows and Synyster Gates of Avenged Sevenfold or 2015's 'Spotlight' with Lzzy Hale. To make it easier for those who won't pay enough attention to go back and learn about his past work, he showed off his versatility at the 2021 MTV Video Music Awards by adding a rap verse to his rock hit 'papercuts.'
What have been your favorite unbothered Machine Gun Kelly moments? Let us know in the comments below or hit us up on Facebook, Instagram, and Twitter! And for more Kells content to keep you entertained until Mainstream Sellout finally gets released, click here.
TO LEARN MORE ABOUT MACHINE GUN KELLY:
FACEBOOK | INSTAGRAM | TIKTOK | TWITTER | WEBSITE | YOUTUBE