If you've been on Netflix (who hasn't?) you might have come across the Webtoon turned new hit Korean horror show, All of Us Are Dead. What more could you ask for in a show? It's an amazingly tense watch to see how high school students survive in their school full of the undead. All the while, these characters are also dealing with the complex trials of coming to age, romance, and societal issues. And if you're still craving for more All Of Us Are Dead, then you need to get your hands on these books!
Content Warning: The following books may contain triggering and upsetting material such as racism, sexism, fatphobia, and sexual assault. The Honey POP encourages mindful reading and always checking the author's website for any additional content warnings.
Hey, honey! Just so you know, there are some links in this article which we may earn money from if you make a purchase using them. It's at no extra cost to you and helps us as an independent publication massively. Thanks for supporting The Honey POP!
Zom-B By Darren Shan
Content Warning: Racism, Xenophobia
If the high school setting and characters combined with the social commentary got you hooked on All Of Us Are Dead, then you might want to pick up a copy of this book. It tells the story of B, a teenager in Ireland who lives with a racist and abusive father. B doesn't necessarily believe in the bigotry their father says. Yet, B struggles internally with the ideas ingrained in their upbringing, resulting in lashing out at other students in school. But when the zombie outbreak reaches B's school, B realizes to survive they are going to have to push aside their biases and align with anyone willing to fight back.
If you're excited to binge on another zombie story, order the first part of the series here!
Eat Your Heart Out By Kelly deVos
Content Warnings: Fatphobia, body shaming, ableism, toxic dieting, mentions of abusive parents, death of a loved one, teen pregnancy, murder
Needing more fat representation in a teen zombie apocalypse? Presenting Vivian Ellenshaw, a girl who is not happy to find herself forced into being enrolled in a weight-loss camp. (Didn't those die out in the 90s?) Not to mention when she arrives at Camp Featherlite, it's full-on blizzarding in Flagstaff, Arizona, everyone's miserable, the camp's "miracle cure" for obesity seems sus, and Vivian ends up finding something… strange in the snow? Suddenly, the luxurious Camp Featherlite is overrun by zombies, and the campers will be damned if they aren't going to survive… however, not all will make it out alive.
Similar to All Of Us Are Dead, this novel touches on social pressures and issues, from typical teenagehood to fatphobia to toxic diet culture all while being a heart-pumping thriller that'll keep you reading this until 3 am.
Order the book here!
Dread Nation By Justina Ireland
Content Warnings: Racism, colorism, slavery, sexism, sexual assault, recounting of child abuse, death of a loved one, torture, forced usage of medication
Did the setting set the deal for your binge-watching? Well, we got something just as interesting: zombies in an early historical setting! Jane McKeen is born in an era when zombies rise during the Civil War. To protect the safety of all, at the expense of others, laws like the Native and Negro Reeducation Act require certain children to attend special combat schools to learn how to fight against the undead. However, Jane, trained in weaponry and etiquette as an Attendant, would rather spend her days at her Kentucky home. But when families start going missing around Baltimore County, Jane soon finds herself caught in a conspiracy, fighting against both zombies and some powerful enemies. 
Find your way from a modern high school overtaken with zombies to an alternative historical fictional setting featuring the undead and mystery.

Order the first book in the series here!
Warm Bodies By Isaac Marion
Content Warnings: Death of a loved one, alcohol consumption, self-sacrifice
If Nam-ra's and Su-Hyeok's complex human and zombie (hambie?) relationship in All Of Us Are Dead got you more hooked than the actual horror itself, then how about you dive into a romance just as similar!
You probably heard of the Warm Bodies movie way back in 2013, but we really recommend giving the novel a try! Similar to the movie, the novel is told from the perspective of a young adult who is a zombie. He doesn't really remember anything except the first initial of his name "R" and wanders like the rest of the dead. Until he meets Julie. Little by little, Julie starts to awaken feelings of love in R, and he starts becoming more human than dead. Yet, as the romance blooms between humans and zombies, it ends up resulting in a possibility that could change the world as they know it.
Ready to squeal over your new zombie/human OTP? Order the book here!
Undead Girl Gang By Lily Anderson
Content Warnings: fatphobia, body shaming, racism, sexism, bullying, death of loved ones, self-harm, suicide, murder, death of animals and animal sacrifices
One of the best things about All Of Us Are Dead was the unique cast of characters and their relationships with each other. After all, how else are you supposed to root for them if you barely know what they're all about? So if you're looking for similar character dynamics, especially between actual zombies themselves, this book certainly got you covered!
Mila Flores is an opinionated teenage Wiccan who doesn't care what anyone thinks about her. So when her best friend Riley is found dead alongside the school's mean girls – June Phelan-Park and Dayton Nesseth, Mila doesn't believe for a second that it was a suicide pact. Instead, she thinks it was a murder. Wanting to know the real truth, Mila decides to bring the girls back from the dead. Yet, Riley, June, and Dayton don't know who the killer is. And, the spell lasting seven days, Mila, and the girls will have to piece together who the murderer is before it's too late. 
This undead friend group will leave you laughing and crying for sure! Order the book here!
School Live!/Gakkou Gurashi! By Norimitsu Kaihou (Nitroplus) And Illustrated By Sadoru Chiba
Content Warnings: Emotional and mental trauma, psychosis, animal death
A manga? Yes, we're recommending a manga. Because if you're looking for the best way to get the All Of Us Are Dead feel, then you have to go back to the origin: comics. Both works are very similar with teenagers trying to survive and fight against a school crowded with the undead. Even a little romance appears too in School-Live!
In short, School-Live!, as known as Gakkou Gurashi!, is about the everyday lives of the School Living Club members. Each member has a role including the happy-go-lucky Yuki Takeya, who seems to see the world in rainbows and sunshine. Everything is pretty normal for the members from setting up the school festival to holding official club meetings. As normal as it can get anyways except for the vicious zombies creeping all around the school. Don't be fooled by the cover because trust us when we say this slice-of-life manga is not what it seems!
Order Vol. 1 of the manga here!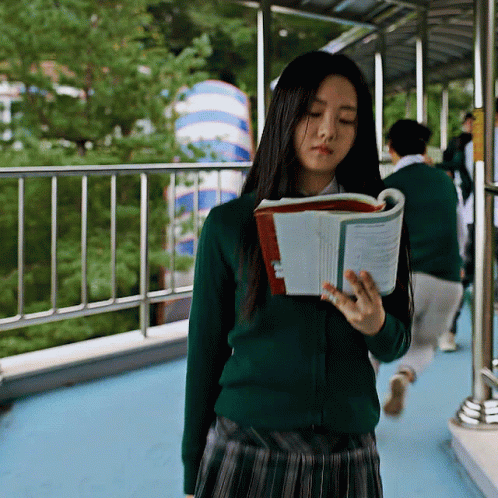 With book recs like this, it'll be enough to hold you through waiting for a (hopefully) season two of the Netflix hit zombie show! Or who knows, you might have actually found your new zombie obsession! Did we miss a book that's on par with All Of Us Are Dead? Let us know over in the comments or over on our Twitter and Instagram!
And for more book recs, buzz on over this way!