With March coming up before you know, so are new releases on our favorite streaming platforms. Even though the dark days will be over soon, our motivation to stay in bed all day and do exactly nothing except for binging won't. Here are nine releases on our favorite streaming platforms we are looking forward to!
Note: Availability may be different on your location!
Turning Red (Disney+, March 11)
Do you remember that time when you just started puberty? When you were torn between staying your parent's little royalty or exploring your rebellious side? Imagine that, but include that you're transforming into a giant red panda every time you get too excited. That's what Turning Red is all about. It shows the story of the 13-year-old Mei-Lee in Toronto, set in 2002-2003. Turning Red is the first-ever Pixar film to be entirely directed by a woman, which alone makes it worth our support. We can't wait to check it out!
Cheaper By The Dozen (Disney+, March 18)
Cheaper By The Dozen is the 2022 Disney+ original remake of the 2003 remake of the 1950 film. The film follows the Baker family, a family of, ever since Mum and Dad got married, 12 persons. Chaos ensured, and after other Disney+ original remakes of classics as Home Alone, we can't wait to see how this will turn out!
Olivia Rodrigo: Driving Home 2 U (Disney+, March 25)
After Olivia won over our hearts with 'Driver's License,' she never left them again. We got an album, we got awards, we got live performances, we got a tour, and now we're getting a documentary. In driving home 2 u Olivia takes us on a road trip, giving us an insight into the process of creating Sour, showing us never seen before footage, and without a doubt, winning over our hearts even more.
The Masked Singer: Season 7 Premiere (Hulu, March 10)
The Masked Singer is returning with brand new costumes for its 7th season. Guessing the celebrities behind the masks is a fun activity good for some friendly rivalry between us here at The Honey POP, making it the perfect show to watch with your friends. Who do you think will be behind the masks this year? Let us know @TheHoneyPOP.
Domino Masters: Series Première (Hulu, March 10)
Do you remember playing domino when you were younger? The nerve-wracking moments when we had to place the stones without starting the chain, hoping that when we were finished, we put them all in a good distance of each other, praying that we won't fail. Then this show is something for you! In Domino Masters, true domino magicians will, with the help of fun challenges, show us how it's done!
My Little Pony The Movie (Hulu, March 19)
Now that we're back in our nostalgic feelings, My Little Pony The Movie will be added to Hulu! The series was one of our absolute faves when we were younger, and we are so happy we can make the newer generations meet our youth! We told our kids to invite their friends, we asked our friend's children, invited our nieces and nephews, we can't wait to watch the show together and bring back some good memories!
Shrek & Shrek 2 (Netflix, March 1)
Okay, let's get serious here. Who doesn't love our green friend? Please, report to the police station tomorrow. And if you do love Shrek, please report too. We will watch it together and let everyone know what a good film it is. It has been almost 21 years since the release of Shrek, and we can still remember seeing it in cinemas. Thank you, Netflix, for adding this gem.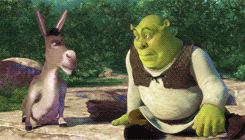 Formula 1: Drive To Survive Season 4 (Netflix, March 11)
Formula 1 is back, baby! The cars are revealed, pre-season testing is underway, and the season is about (kind of) to start. Drive To Survive season 4 gives us insight into the ever-exciting 2021 championship, won by Max Verstappen. We cannot wait to see the behind-the-scenes of Kimi's last season, Max's first win, and, obviously, more Carlando.
Pieces Of Her (Netflix, March 4)
Pieces Of Her is the long-awaited Netflix original adaption of Karen's Slaughter's book. We at The Honey POP love reading books and love watching Netflix, so this is our ideal show. Even though the plot will differ from the book, we have been waiting on this ever since we first read the book. We will be ready with drinks & snacks and are jumping in excitement until then!
These nine shows are only a fraction of the releases added on our favorite streaming platforms this month. Did we miss your favorite show or a hidden gem? Let us know in the comments or @TheHoneyPop!
Do you want to read more about our favorite shows? Click here.
TO LEARN MORE ABOUT DISNEY+:
FACEBOOK | INSTAGRAM | TWITTER | WEBSITE | YOUTUBE
TO LEARN MORE ABOUT HULU:
FACEBOOK | INSTAGRAM | TWITTER | WEBSITE | YOUTUBE
TO LEARN MORE ABOUT NETFLIX:
FACEBOOK | INSTAGRAM | TWITTER | WEBSITE | YOUTUBE