Yes, SEVENTEEN is back at it again, being kings that is. The International Federation of the Phonographic Industry (IFPI*)'s Global Album Sales Chart that was revealed on March 1 highlighted SEVENTEEN's albums Attacca and Your Choice as #3 and #8 of top international sales respectively. That's in the top ten of album sales in the whole world! Did we say kings before? We meant global kings.
[apple_music_ad artist="SEVENTEEN"]
Their 8th EP, Your Choice, sold more than 1.3 million copies in the first week of sales alone when it was released in June 2021. There's no doubt about the impact this phenomenal K-Pop group has not just in Korea but globally. SEVENTEEN stands among other iconic artists in the Top 10 such as Adele, BTS, Ed Sheeran, Justin Bieber, and Taylor Swift.
But the love IFPI has for our thirteen-member group doesn't stop there, oh no. They also unveiled the 2021 Global Artist Chart on February 24 which SEVENTEEN made their first appearance on as the 9th best-performing act of 2021.
In honor of their great achievement, we've made a little list of why SEVENTEEN has been topping the charts of our hearts for years.
Their Love For CARAT
SEVENTEEN Movie
Let's kick things off with a recently announced surprise gift to their fans, known as CARAT, their very own film, SEVENTEEN POWER OF LOVE : THE MOVIE! The movie will be coming to theaters globally on April 20 and 23 and tickets will go on sale on March 17 so remember to mark your calendars, CARATs!
CARATs will be lucky enough to get previously unreleased interviews of the members, concert moments, and tons more behind-the-stage tidbits! Grab your CARAT besties, your SVT merch, and get ready for one exciting movie night!
SEVENTEEN IN CARAT LAND
The joy keeps coming when it comes to SEVENTEEN and their heart for their fans. Not only is CARAT getting a movie, but the 6th Edition of the group's fanmeet, SEVENTEEN IN CARAT LAND, will take place at the end of March as well. 
While only fans who are in Korea will be able to meet them in person, they made sure to keep international CARATs included as well with a live stream of the offline event on the last day. Thoughtful kings caring for their CARATs, as always. There's a reason we stan them, and their love for their fans is just one of them!
Their Teamwork
While getting ready for their Ode To You tour, SEVENTEEN filmed a documentary series entitled HIT THE ROAD showing the process of what it takes to get everything prepared for a tour. You'll get a glimpse of performance rehearsals, stage outfit discussions, and more.
From their flawless coordination on stage, we know they have incredible teamwork but through this series, we can see it in a different light. We are almost certain SEVENTEEN is the reason the phrase "teamwork makes the dream work" exists. 
Their Openness To New Experiences
We all know SEVENTEEN has no fear when it comes to testing their limits on stage through incredible performances, but we're here to bring some attention to what they do off-stage too. For those who might not know, SEVENTEEN has a variety show called GOING SEVENTEEN, affectionately referred to as GoSe by CARAT.
On GoSe, they come up with all kinds of ideas of what they should do for each episode and their creativity never lets us fans down. From cooking to bungee jumping there's nothing they won't do if they think CARATs will like it. This just happens to be one of our favorite episodes!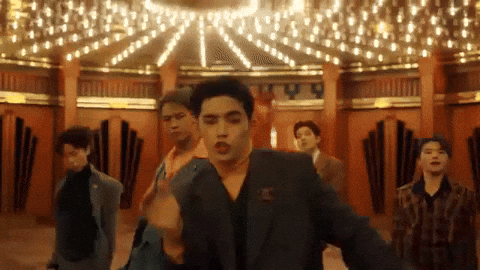 Topping the IFPI global album sales chart, announcing their own movie, and Vernon's collaboration with Charli XCX, SEVENTEEN is already ruling 2022, and the year has barely even begun. But we have a feeling they're just getting started!
CARAT, how proud are you of SEVENTEEN? What do you hope to see in their upcoming movie? Drop a comment below, tweet us @TheHoneyPop, or comment on our Instagram and Facebook.
Need more Seventeen? Check out a few of their solos and duets and WOOZI's solo mixtape Ruby!
TO LEARN MORE ABOUT SEVENTEEN:
FACEBOOK | INSTAGRAM | TIKTOK | TWITTER | WEBSITE | YOUTUBE