To all who come to this happy place, welcome! We're huge Disney fans here at The Honey POP. Everything from the parks to the shows to the movies, if it's Disney, we love it! But we know it can get overwhelming with all the announcements and content, so we thought we'd bring you a roundup of all the Disney news you need to know. You wanna know about the theme parks? We got you. Need to be updated on the latest Disney+ offerings? We got that covered too!
Disney Parks News
Betcha didn't expect us to give you theme park updates huh? Well, we live to please and we have some fun updates and tips for you about the Happiest Place(s) On Earth!
Disneyland And DCA Have Some Yummy Magic Coming Your Way
February was the Magic Key Holder celebration month and brought us the return of the trams! If you find yourself at the West Coast park, you no longer have to walk from the parking lot to the parks and we're so hyped! Not that we don't spend the whole day walking anyway but it's different when it's just the parking lot you know?
March brings us the ever-popular Food and Wine Festival, which takes place in Disney's California Adventure. There's always a wide variety of new foods, drinks, and desserts for you to try out so be sure to check it out. It runs between March 4th and April 26th this year so you have plenty of time!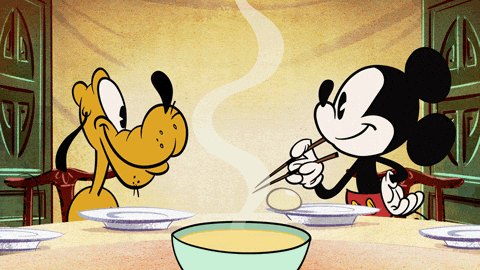 Disney World Is Bringing Out The Flowers and Star Wars Fanatics
From now until July 4, the International Flower & Garden Festival will be taking place at EPCOT. The festival brings outdoor kitchens, topiary displays and gardens, new fresh festival merchandise, and the iconic Garden Rocks performances. You don't want to miss it!
Star Wars: Galactic Starcruiser has officially opened its doors. The two-night adventure aboard the Halcyon Starcruiser is the first of its kind and guests can finally live out their Star Wars dreams and become the heroes of their very own story. You can learn more about this interactive experience here.
What's Coming To Disney+ Soon
Moon Knight's Super Bowl Spot Has Us Buzzing
The latest MCU show coming to Disney+, led by Oscar Isaac, has already generated quite the buzz. If you don't know a ton about the character, you're not alone. But diehard Marvel fans and casual viewers alike seem to be extremely excited for Marvel's Moon Knight either way, given the reactions to the latest teaser trailer that dropped during the Super Bowl. We're not 100% sure about what to expect from this one, but we're looking forward to it either way. Oh and Oscar Isaac's accent? Perhaps we're in love. You can catch Moon Knight on Disney+ starting March 30th.
The Proud Family: Louder and Prouder Is The Gift That Keeps On Giving
If you're like us and grew up watching The Proud Family, seeing it being brought back to life for a whole new generation was probably a crazy feeling. When did we get old?? The Proud Family: Louder and Prouder feature all the faces you know and love as well as some brand new characters we're getting to know! And some of those new characters have some familiar names attached to them!
Brenda Song, Lizzo, Lamorne Morris, and Al Roker are all making an appearance on the show and we just got a first look at their characters! We're super excited for all these cameos and to see where the show takes them!
Chip 'N Dale: Rescue Rangers Our Beloved
This one really feels like a blast from the past. 30 years after the original Chip 'N Dale: Rescue Rangers, we're getting a brand new show featuring the iconic duo!
It looks like the adventurers got an update to their style as this show follows them through modern-day LA, where they live with humans and cartoons alike. It's a healthy (maybe bittersweet?) dose of nostalgia with a modern twist. The two will be voiced by John Mulaney and Andy Samberg! An iconic duo for an iconic duo, we're so excited!
Ice Age: Scrat Tales
This series of six shorts stars the iconic Scrat as he experiences the ups and downs of fatherhood. Baby Scrat is a mischievous little guy and throughout the series, he and his dad are battling it out for the highly coveted Acorn. This series is set to debut on Disney+ on April 13 and we cannot wait to see it!
Catherine Zeta-Jones Is Joining National Treasure And We're Screaming
Catherine Zeta-Jones is in fact a national treasure so it's fitting that she will have a regular role on the Disney+ National Treasure series.
The award-winning actress will be playing a billionaire treasure hunter and we're so excited to see how the story unfolds. Will it bring us the same rush as the National Treasure movies? One can only hope. We live for a good treasure hunt.
Raven's Back?? Oh Snap!!
Disney is really pulling out the nostalgia with all of these upcoming releases and we can't say we're mad about it. Raven's Home isn't a new release, in fact, season five premieres on March 11th, but this season is sure to hit all the childhood feels. This season will follow Raven returning to her childhood home to take care of her dad, so you might see some familiar faces and locations along with some brand new ones. And will Booker be able to keep his powers a secret from his new friends? Well, we, unfortunately, can't see the future so you'll just have to watch for yourself and find out!
More News Coming From Disney+
Free Guy, starring Ryan Reynolds, is now streaming on Disney+
Better Nate Than Ever will be out on April 1st
The original song 'Nobody Like You' from Turning Red, which was written by Billie Eilish and Finneas O'Connell and performed by 4-TOWN, has officially released the lyric video
Launchpad: The second season has officially been announced and will be out in 2023
Disney is the happiest place on Earth and this month's update is just proof of that. Star Wars: Galactic Cruiser finally opening, Raven is back for Raven's Home, news about The Proud Family: Louder and Prouder coming out, and more.
What are you excited about in the world of Disney? Let us know in the comments or chat with us over on Twitter and Instagram!
TO LEARN MORE ABOUT DISNEY+:
INSTAGRAM | TWITTER | WEBSITE | YOUTUBE