At The Honey Pop, we never tire of discovering and listening to new songs. Whether it's exploring new music from our favorite artists or discovering fresh sounds and artists from diverse niches across the globe, it's the more, the better.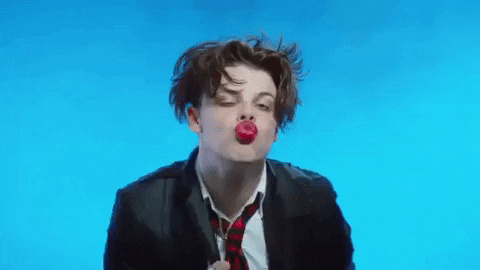 As for this week, we are delighted to share three incredible new songs by three of our favorite artists, spanning different genres. From EDM to alt-indie to pop-rock, there's something for everyone. It's time to take a break from spring cleaning your wardrobe and add these spicy and refreshing new songs… to spring clean your music library. 
[apple_music_ad artist="Rex Orange County" song="OPEN A WINDOW"]
If you're a big fan just like us, then don't sit quietly and join in the hype. Without further ado, let's take a quick look at the new music we have to explore and jam to all weekend long.
'OPEN A WINDOW' (feat. Tyler, The Creator) – Rex Orange County
Alternative-indie artist Rex Orange County has achieved global prominence through previous hit albums, and now he has unveiled his latest album entitled WHO CARES?, featuring Tyler, The Creator, he shared his latest single, 'OPEN A WINDOW,' in conjunction with the release. Apt to its title, the track is a window into his mind, offering a glimpse into the album's overall sound and theme.
Rex appears to be stepping out of his comfort zone and broadening his horizons both sonically and lyrically, creating an impact and a sense of freshness. His latest works, including this song, are more relaxed, chill, and soothing, unlike his usual repertoire leaning into melancholy.
"Can I open a window?/ Can somebody open the door?
There's so many reasons/ I can barely take it anymore
Stuck here, and I never seem to get away, but I will hang on
Despite the euphoric, blissful production, this song evokes an emotional response and hits us right in the feels. Rex's breezy, mellifluous vocals blend seamlessly and perfectly complement Tyler's glistening, infectious keyboard arrangement, drumbeats, and lush melodies that beckon you to groove. When he croons beautifully, his lyrics hit home for us, "I'm tryna find a way to get out." Don't we all?
Listen to 'OPEN A WINDOW' by Rex Orange County and Tyler, The Creator here!
TO LEARN MORE ABOUT REX ORANGE COUNTY:
FACEBOOK | INSTAGRAM | TWITTER | WEBSITE | YOUTUBE
'The Funeral' – YUNGBLUD
British alt-indie young sensation and born rockstar YUNGBLUD returned with his much-awaited, brand new song 'The Funeral' released via Geffen Records. It stems from personal experiences of YUNGBLUD, but it is universally appealing, and most people will resonate with it at some point.
The song embraces uncompromising truths with raw, emotional honesty oozing with an unapologetic look at life, ego, death, rebirth, and beyond. Although death is inevitable, it poses a lot of uncertainty. YUNGBLUD muses on such questions while exploring the darkest recesses of the mind, resulting in his phenomenal songwriting mastery and impressive artistry throughout this vibrant, brilliant track.
Listen to 'The Funeral' here!
An accompanying theatrical music video features the legendary Ozzy & Sharon Osbourne, and it depicts true YUNGBLUD fashion oozing his infectious charisma and style. The music video opens with YUNGBLUD inside a coffin, and then the camera swiftly pans to him singing at his concert.
'The Funeral' walks us through the artist's innermost thoughts and takes us on an introspective journey. He gives his audience a dark, realistic glimpse into his life in the shadows, away from fame and spotlight.
Somewhere along with the video, it encapsulates our biggest fear of being left alone, one we know but are hesitant to admit to ourselves. Yeah, life means stepping into the unknown every day, which could be frightening, confusing, and worrying, as we don't have any control, but that's okay. All of us have our own stories and struggles, but at least we have each other to cling to until the end. And along the way, we gradually discover a glimmer of hope at the end of the tunnel.
TO LEARN MORE ABOUT YUNGBLUD:
FACEBOOK | INSTAGRAM | TWITTER | WEBSITE | YOUTUBE
'The Motto' (feat. Ava Max) – Tiësto
GRAMMY-winning DJ and record producer Tiësto unveiled a new music video for his smashing new song, 'The Motto,' starring vocal sensation Ava Max. It debuted exclusively on Facebook for 72 hours before being released on YouTube.
Tiësto is a renowned hit-maker collaborator and delivers the iconic, effortless head-bopping and stomping singles guaranteed to get you moving. He continues to broaden his horizons, transcend genres, and stay on top of his game while redefining and advancing modern dance music and setting new standards for success.
'The Motto' is a party anthem, released last year as we wrapped 2021 and danced our way into 2022. This song inspires you to have fun, be carefree, and show others how to lead a fulfilling life.
It's an epic dance floor video, directed by Charm LaDonna, that squeezes you in your dancing shoes as soon as you hit the play button. The video showcases the iconic vogue-style dance, featuring Ava Max performing flawless, brilliant choreography in tune with several dancers. The original music video had both Tiësto and Ava Max traveling back in time to the 1920s and partying their hearts out while singing and looking flawless.
Watch the music video below:
TO LEARN MORE ABOUT AVA MAX:
FACEBOOK | INSTAGRAM | TWITER | WEBSITE | YOUTUBE
TO LEARN MORE ABOUT TIËSTO:
FACEBOOK | INSTAGRAM | TWITER | WEBSITE
Let us know which new song is your favorite this weekend by tweeting us @TheHoneyPop. Want the daily drip? Get the latest pop culture news and inside scoop by following us on Instagram and Facebook!
Want to take more fun quizzes? We gotcha covered! Searching for content to binge this weekend? Buzz over here!
Want more juicy content to sink your teeth into? Head over here!
Khushboo Malhotra
Khushboo Malhotra works as a freelance journalist, digital marketing & media strategist, and content marketer featured in various global and national media publications and works alongside B2B, B2C, and eCommerce brands. A wide range of her work spans music and entertainment culture, sustainable lifestyle (including sub-niches), and SaaS. She enjoys writing novels and designing screenplays, grooving at concerts, or exploring new fashion and cuisines that tickle her taste buds when she is not working. Have a story? Get in touch: khushboomalhotra24@gmail.com