As you can tell, one thing we here at The Honey POP love is women. That's right! Women's History Month is basically our jam! (Music pun definitely intended.) Not only do we get to talk about our faves, but we also get extra opens to rave about women who definitely deserve more love! Now whether they are underground or taking the stages by storm, we know how to pick the lovely ladies you'll need on your radar.
Chelsea Cutler
If you thought we were doing a lovely ladies round-up without mentioning Chelsea Cutler, you would be painfully mistaken. Not only is her talent out of this world, but we kinda like to think of her as our best friend! (How cool would that be right?) Us not taking the time to talk about our love for Chelsea would be like The Honey POP with no bees! If we had no bees, you wouldn't be reading this because it wouldn't exist. (You know, the chain of events and all that!)
Anyways, Chelsea Cutler is dropping things left and right! We're struggling to keep up! We've got a deluxe album, a tour, a new single, and a music video to match? Is it our birthday or something because we feel spoiled! We're beyond excited to be front row screaming the lyrics to the entire deluxe album. (Perhaps we're joking, perhaps not. You may never know!) If you want tickets to see her live, there might still be some available here! (Go on, click the link. We won't judge you.)
TO LEARN MORE ABOUT CHELSEA CUTLER:
FACEBOOK | INSTAGRAM | TWITTER| WEBSITE
Ceara
You know what sucks? Being ghosted. You know what makes it suck less? Screaming the lyrics of your favorite song. Ceara has blessed us with the remedy to all of our beginning of the year blues! We wanna give her all our love and all our money! (You know, even though we're not exactly millionaires.) We know for a fact that Ceara is going places, and we're sitting front row without popcorn and soda! Until then though, we'll be streaming the song right here.
I wrote this song about a guy that I had been dating for about 8 months who randomly ghosted me without saying anything. It is such a weird feeling when you are used to talking to someone everyday and then out of nowhere it's just complete "radio silence" on their end.

Ceara on 'Radio Silence'
TO LEARN MORE ABOUT CEARA:
INSTAGRAM | TIKTOK | TWITTER | YOUTUBE
ROSIE
Remember when we said Chelsea Cutler was on tour? Yeah? Well, guess who's gonna be touring with her! If you guessed ROSIE, four for you, Glenn Coco! If not, well, it's ROSIE! We're so excited to see her in all of her glory on that stage! You know that feeling when you see your best friend succeeding? That's the feeling we know we're gonna get when ROSIE gets on stage! Perhaps we're hoping for 'Next Life' on the setlist?
Though it is painfully heartbreaking, I wanted to add a sense of hope each time the chorus circles back, 'maybe in my next life I can live my best life.' This song evokes a wide range of emotions, but I hope that ultimately it sends the message: we're all just human beings, doing our best to feel our best, whether it is in this life, or in our next life.

ROSIE on 'Next Life'
TO LEARN MORE ABOUT ROSIE:
FACEBOOK | INSTAGRAM | TIKTOK | TWITTER | YOUTUBE
Amelia Moore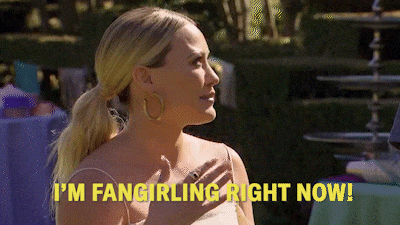 Oh, our dear friend Amelia Moore, how we love seeing her name pop up! Amelia Moore supremacy. That's it. That's all we have to say. No, we're just kidding! You're never that lucky! Amelia Moore has had us obsessed since the beginning, and we're beyond excited for this next track! (If you hear any loud screaming, that's just our HQ exploding in fangirl, feel free to ignore it!)
It seems a lot of our lovely ladies are on tour this month! We can't buy tickets fast enough! No, seriously, we physically cannot keep up with all these amazing shows! Add Amelia Moore to our list of ladies that we've spent countless dollars on. (It's a long list. Like at least a mile long. We have no shame!)
TO LEARN MORE ABOUT AMELIA MOORE:
INSTAGRAM | TIKTOK | TWITTER | YOUTUBE
Sydney Rose
Flowers are always growing, and Sydney Rose is in bloom. Okay, that was bad! We get cheesy when we love an artist that much. Sydney is completely taking The Honey POP by storm, and we're in awe of the talent blowing through. We tip our punk fuzzy cowboy hats to Miss Rose.
I wrote this song in a time where I felt like the only thing to keep me moving forward was to start loving myself. I wanted to do the things I loved without the pressure of anyone else telling me what to do.

Sydney Rose on Her Track 'Phoebe Told Me'
TO LEARN MORE ABOUT SYDNEY ROSE:
INSTAGRAM | TIKTOK | YOUTUBE
No matter what month it is, we here at The Honey POP will never stop praising the loveliest ladies that make music for us! We will be talking about these ladies until the day we pass away! (Which is hopefully never, THP will live on forever!)
Do you love female artists as much as we do? (The answer to that better be yes, or we will sue.) How many of these ladies will you be adding to your playlists? You can let us know down below in the comments! Even better, you can let us know on Twitter, Instagram, or Facebook!
While you're here, make sure to join our Discord server!
Sage Marie Grace
Writer for The Honey Pop. Dr.Pepper Stan. Comedic Relief Friend at All Times.