Let us ask you a question. What does the Shazam music app have in common with The Honey Pop? We share a mutual love for music fans and aim to connect and help music lovers all around the world, letting them discover new music, explore the realms of the music world, and share the artists they like, effortlessly, with a single tap. Clever, isn't it?
Imagine you hear a familiar song in a club you listened to decades ago and can't recall its lyrics or title. Or, sometimes, we come across a song that we instantly love but cannot identify. In those moments, we wish we had a magic wand that would give us all that information at once instead of imagining the lyrics. Okay, maybe we are the only ones who imagine a magic wand, but we found it, and it is the Shazam music recognition app. 
Now you can relax because we live in an innovative digital era with endless possibilities. For music buffs, this app is a godsend. It will tell you the name and the lyrics of every song, and if you are anything like us, you will play the song so many times that it becomes ingrained in your memory.
There are plenty of music identification apps available on the market right now, but Shazam seems to be the most convenient, fitting, user-friendly, and popular app among music buffs. The music app is a tremendous hit with us, and over 225 million monthly active users of the app agree, as they shazam for over 1 billion songs a month.
And that's not all. As per the latest statistics, the music app has amassed over 50 billion song shazams since its launch, thus achieving a huge milestone in the platform's history.
This week, we explored Shazam, one of the most popular and fan-loved music apps, which is continuously gaining momentum and raking in users every day. We will walk you through its best attributes, functionalities, secret features, app integrations, and more!
What Is Shazam?
Shazam is a radical music recognition app that simplifies the process of music discovery, making it just a tap away. It is a free app that identifies songs around you through small snippets of music or tunes being played on your phone or even in your surroundings through the microphone. 
Shazam has escorted us into an advanced era of music discovery, exploration, and sharing our favorite music beyond our wildest imagination, but this is just the beginning. After identifying it, it displays all the information available about the tune, including the song title, lyrics, artist, and suggested playlists.
Taking a stroll down memory lane, a London-based company, Shazam Entertainment Limited, developed this idea 20 years ago in 2002. They later released it as an iPhone app on the App Store in 2008, making waves in the market. Since Apple Inc. acquired it for $400 million in 2018, it has continued to be a big hit among music fans, and for good reason.
Its glimmering success has inclined us to call Shazam synonymous with magic for both fans and artists, given their exponential exposure and leveling up their success. Its popularity illustrates an ever-growing passion, enthusiasm, and zeal for music discovery among global music lovers.
How Does Shazam Work?
The app is the first of its kind and has proven incredibly popular because of its unique features.
When a user taps into Shazam, the app records a 10–20 second long snippet of any audio or song. Then, it creates a digital fingerprint that runs into a comprehensive database of millions of songs and audio files. The song recognition algorithm analyzes frequency patterns (or audio fingerprints) to detect and track down the song you're trying to find.
There is a unique audio print for every song, even for different versions, which helps the app distinguish between tracks. Within seconds, the app displays all the relevant information, including the song title, artist, lyrics, sharing options, and additional information from the database.
Latest Addition: "Concert Discovery Worldwide"
"Concert Discovery Worldwide" is the latest feature introduced by Shazam and launched in partnership with Bandsintown. This built-in feature allows users to discover upcoming concerts around them by shazaming a song.
Shazam has a long history of innovation in music discovery and connecting artists and fans. With the re-emergence of live music, we're excited to give Shazam users access to concerts and bring even more discoverability to artists.

Oliver Schusser, Vice President, Apple Music and Beats
If the artist has any upcoming concerts lined up, the app will help you immerse yourself in the music you love to the fullest. The artist pages allow fans to explore upcoming concert information while maintaining their own tour calendar. It makes things convenient for fans and gives artists exponential exposure, with live music returning in full swing after COVID-19 restrictions have eased up.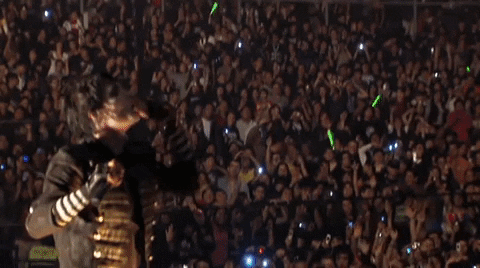 As live music returns, we're on a mission to help artists get more visibility for their shows. The pent-up demand from fans eager to return to concerts is being met by an unprecedented level of live shows from artists on tour.

Fabrice Sergent, Managing Partner, Bandsintown
Music nerds, hurry up! Prepare to go on tour and meet your favorite artists while discovering new music and jamming with them. It's time to live your life.
Target Audience
Shazam's target audience includes everyone, from young to old, any age or any gender, etc., who is curious about the songs they listen to or the TV shows and movies they are watching. With a stable internet connection and a smartphone, anyone can access the Shazam database and enjoy the perks. As long as you love music as much as we do and you are a crazy music buff, you are welcome to join the Shazam club!
How To Shazam!
Shazaming is a highly intuitive, hassle-free process. We have broken it down into steps for you to use the app!
Download and install the Shazam app on your Android or iPhone device. (Check the "Availability" section below for direct download links.)
After installing, set up the program by logging in, and you'll see the primary user interface.
Swipe down the screen and click on the "Preferences" icon.
Enable the option "Shazam for Indices."
A request screen will pop-up asking for your approval to allow the Shazam app to be drawn over other apps for full accessibility. Click on "allow."
Open any media streaming or audio/video app on your device and play a tune.
Tap the Shazam pop-up and it will immediately recognize the song, giving you all the information about the song, artist, and lyrics.
That's all it takes for our music app to do its magic. Swirl the wand!
Additional Features
Shazam does more than identify shows, songs, or artists. It shows you the lyrics synchronized to a real-time audio stream so you can sing along and enjoy your own karaoke party. Additionally, you can view other albums, songs, and videos by that artist and browse their top suggestions.
Apart from the latest concert suite features, you can also browse Shazam charts for interesting predictions and discover up-and-coming artists that might become top risers or A-list celebrities in the future. The app offers top picks for similar tracks by other artists and ready-to-play playlists to jam to, tailored according to your taste and searches.
Listening to music becomes more enjoyable when you share the fun with your friends and family. Shazam allows you to share your tracks on social media or through emails and texts. Shazam is also compatible with Apple Music and Spotify, so you can switch directly to these apps and curate your own Shazam-inspired playlists.
The Shazam app keeps track of your discoveries, and you can access them in the app library at any time. If you don't wish to lose an excellent song because of an internet outage, tap on Shazam and record the snippet. The digital fingerprint will get saved and processed after reconnection to give you the perfect song match. That's a real lifesaver, isn't it?
Finally, the Auto Shazam feature allows the app to identify songs around you on its own while you're using other apps, so even if you forget or get distracted, Shazam will rescue you. Let's see what the best songs are on our music palate! Oh, we are so excited.
Availability
Shazam is available on both iOS and Android platforms, as well as access through the official website. Simply scan the QR code on the website or download the apps from Play Store for Android and Apps Store for iOS for free!
Alternatively, you can install a Google Chrome extension and identify songs in seconds from your web browser. You can also "Tap to Shazam" and recognize music from the Control Center on iOS and Android notifications, or pop it up over other apps to shazam a song.
With the Shazam app, the possibilities are endless. So leave all your excuses behind and dive in with us to explore the greater depths of music realms… and keep shazaming!
---
If you have made it this far, you are a real one. So how are you going to shazam tonight? Are you a Shazam app user? What is your favorite feature? Which app do you want us to check out and cover next on The Honey Pop? Comment down below or tweet to us at @TheHoneyPop!
Want a daily drip? Get the latest pop culture news and inside scoops by following us on Instagram and Facebook! Looking for more poppin' tunes for your ears? Buzz over here!
TO LEARN MORE ABOUT SHAZAM:
TWITTER | WEBSITE
Khushboo Malhotra
Khushboo Malhotra works as a freelance journalist, digital marketing & media strategist, and content marketer featured in various global and national media publications and works alongside B2B, B2C, and eCommerce brands. A wide range of her work spans music and entertainment culture, sustainable lifestyle (including sub-niches), and SaaS. She enjoys writing novels and designing screenplays, grooving at concerts, or exploring new fashion and cuisines that tickle her taste buds when she is not working. Have a story? Get in touch: khushboomalhotra24@gmail.com