EXO-Ls, who is the best boy in the world? Lay Zhang, that's right! We just got the news that Lay's exclusive contract with SM has ended. But fear not, he is far from leaving EXO, also they are working on another kind of contract that will guarantee Lay being able to promote with the other boys in the future!
[apple_music_ad artist="LAY" song="JIU"]
April 8th is a special day for EXO-Ls. Lay gifted fans with a new song to commemorate this day, which is not only the day his contract has ended and that he debuted, but it is also EXO's 10th anniversary since their debut as a group. Lay knows how to hit us right in the feels but also reassures us that EXO always is and will be consisting of nine members.
'JIU' is a beautiful song that carries a lot of meaning, so while you are drying your tears, stream 'JIU' here. Now that that's done, let's have a look at all the times 'JIU' proves Lay's love for EXO.
The Intro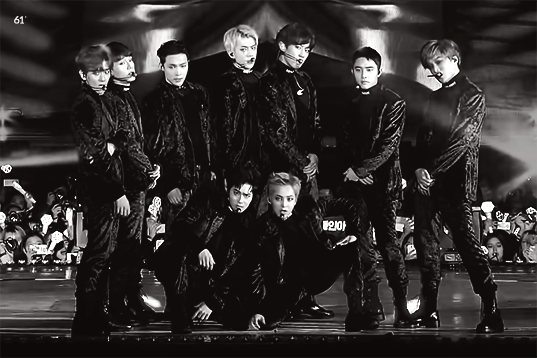 The opening of 'JIU' hit us right in the feels. To hear Lay communicating with the other EXO members had us all kinds of soft. We can hear, for example, Baekhyun asking Lay if he listened to 'Bambi' and what he thinks about it (he loved it, btw). Or we hear Lay telling Chanyeol he loves him too. These small interactions just make our hearts warm up and reconfirm how much Lay loves his members and EXO.
"Fighting all the way, no one has stopped
Passionate, the road ahead is free
will be side by side for longer than ever"
These three lines perfectly capture how hard it has been for Lay and the rest of EXO on their journey. They were fighting, but none of them stopped fighting, both on an individual level or as a group. The road they are on now is free and full of passion, and Lay reconfirms they will be side by side together for a time that is longer than ever. We will love EXO and Lay for just as long, promise!
"Thank you for your kindness"
This line is about Lay thanking his members, fans, and everyone supporting him for their kindness, and we can only say right back at you, Lay! Thank you for always delivering such great music to us and comforting EXO-Ls! Lay never strayed from EXO planet and he has been thriving on his solo journey. We love him and will keep supporting him as well.
"There are nine stars in this universe that have fought in battle"
This line says it right there. Nine stars, nine members. EXO is and always will be nine no matter what the universe throws at them, they will always fight together as nine. We have no doubt that we will see EXO perform together again in the near future. Lay will never stop loving his members and the other way around. EXO let's love.
"Respect warmly forever"
Lay Zhang has always been one of the kindest idols we have seen and he has nothing but love to give. He respects and loves his members, and EXO-Ls so much and this respect is more than mutual. As you can tell 'JIU' is a pure reflection of Lay's love for EXO and EXOs love for him.
How much do you love Lay? What's your favorite part about 'JIU?' Let us know in the comments down below, on Twitter @thehoneypop, and don't forget to talk to us over on Facebook and Instagram!
Want more K-Pop in your life? We got you!
TO LEARN MORE ABOUT LAY ZHANG:
INSTAGRAM | TWITTER | WEIBO | YOUTUBE |
TO LEARN MORE ABOUT EXO:
 FACEBOOK | INSTAGRAM | TWITTER  | YOUTUBE