Do you love horror movies? Here at The Honey Pop, we love a scary story, and Go Hunt Me definitely delivers. This 2022 release about a horror movie buff filming a movie in a scary castle made us want to sleep with the lights on.
Summary: Alex Rush is ready for the trip of a lifetime.

She and her friends have made some creepily awesome films together throughout high school, so with only a few months left before they go their separate ways for college, they're determined to make the best one yet: an epic short film that reimagines the story of Dracula, filmed on location at a remote castle in Romania.

But when they get there, it's not quite the majestic setting they planned for. Menacing weapons line the walls, the twisted halls are easy to get lost in, and with no connection to the outside world, the group is unexpectedly off the grid. After just a few hours spent under its roof, Alex and her friends have no trouble imagining how this dark, terrifying castle inspired one of the most enduring horror novels of all time.

Only soon they no longer have to use their imaginations to understand the location's terrifying history—just as they get the film's first shot rolling, one of Alex's friends disappears, and she's nearly certain she saw a cloaked stranger lurking in the shadows. As more members of the group begin to meet an untimely demise, Alex is desperate to stop the bloodshed, even if it means facing a monster she never thought would be let loose.
Content Warnings: mention of sexual assault, violence, murder, death, cancer, gore
Our Review
Go Hunt Me had a great setting and overall atmosphere. The old castle that once belonged to Vlad the Impaler definitely set the tone for the book. Its gruesome history and the fact that it's located in the middle of a huge forest made it a perfect setting for a horror novel. Our main character Alex is a movie buff and up-and-coming director, and we found that to be a unique and interesting perspective. Getting a behind-the-scenes look at what it takes to make a short film was entertaining to read about.
In Go Hunt Me, there was a large cast of characters, each with their own motives and backgrounds. However, we wished we could have learned a bit more about them to be more invested in their stories. The mystery of who the killer was kept us intrigued, and we had fun gathering clues as to who it could be. Another thing we enjoyed was the various forms of media that were used to tell this story. From interrogation transcripts to parts of a script, it provided an insightful view into the past and present.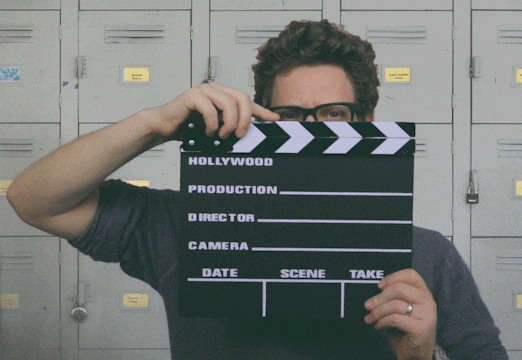 Go Hunt Me by Kelly deVos is out June 14th and is available for pre-order here!
That's a wrap on our review of Go Hunt Me by Kelly deVos! We hope you enjoyed it! Are you a fan of horror movies? What's your favorite horror movie? Let us know in the comments below or by tweeting us @TheHoneyPOP!
Looking for more bookish content? Check this out!
TO LEARN MORE ABOUT KELLY DEVOS:
INSTAGRAM | PINTEREST | TUMBLR | TWITTER | WEBSITE
Paige Lobianco
Find Paige on Instagram @pagebypaigebooks. Paige is a bookstagrammer and blogger who loves all things bookish. From fantasy to mystery she can't get enough! She's always ready to recommend you a book and she can talk about her favourites all day. When she's not reading, you can find her watching Marvel movies, playing video games, and taking bookstagram photos.