Isn't this like Harry Styles' world, and we're just living in it?
And the world feels happier, shinier, and more pleasing than 'As It Was' as we bask in the blazing success of one of our most treasured British singer-songwriters, who's ready to conquer the music world with his upcoming third album, Harry's House, slated for release on May 20.
[apple_music_ad artist="Harry Styles" song="As It Was"]
Harry Styles is riding high on the rousing success of his latest single, 'As It Was,' which has been smashing records left and right ever since its release. The song has topped charts all over the world and has accomplished an array of streaming records. The record-breaking streak continues with the single consistently topping the global Spotify chart for 11 days in a row, with 9.787 million streams to date.

The song has garnered raving reviews and massive acclaim from global media publications, critics, and fans. It has created a tremendous buzz among his fans and also recorded a staggering jump in his fanbase at a staggering rate. For us, this is a testament to true artistry and the making of a legend for generations to remember?
Here are the accomplishments that 'As It Was' has so far achieved.
The song consistently stayed in the number 1 position for 11 days in a row on the global Spotify chart, with 9.787 million streams to date.
It debuted at #1 in the US on the Billboard Hot 100 and UK Official Charts.
It is his first track to debut atop the chart and his second #1, alongside 'Watermelon Sugar.'
It has become the most-streamed song in the US in a single day in Spotify history, garnering 8.3 million streams.
It has become the most-streamed song globally on a single day in 2022 so far, amassing over 21.6 million streams.
Harry Styles has earned the record for the biggest single-day streams by a male artist in global Spotify chart history.
It became the second-biggest single-day total in Spotify's history.
It broke Apple Music's streaming record for most first-day streams for a song released in 2022.
It broke the record for most first-day streams for a Spatial Audio release.
It entered the top 10 on the daily Billboard #HotTrendingSongs chart.
It reached the top of US iTunes and US Apple Music and claimed the throne on the daily global Apple Music singles chart.
It claimed the thrones in Ireland, Australia, Austria, Sweden, Switzerland, the Netherlands, New Zealand, and Canada.
Additionally, Harry Styles joined David Bowie and Nirvana as the third artist with more than one of the best-selling vinyl albums of 2022.
(Source: Chart Data/ Official Charts/ Spotify/ Apple Music/ Columbia Records)
'As It Was' is one of the most vigorously passionate and emotionally charged performances by Harry Styles and has a wistful ode that further establishes the mood of the forthcoming album. It exudes such effervescent, infectious energy, satisfying your eagerness to groove coupled with poignant lyrics that will melt you instantly. It erupts into an eclectic musical flair adorned with lush vocals as it segues into a psychedelic 80s-inspired hook with a modern spin, coupled with jaunty, ear-worm melodies and rich percussion.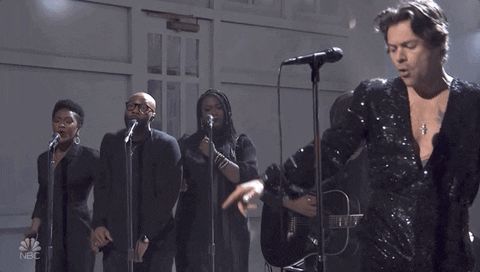 To commemorate the massive, record-breaking success of 'As It Was,' we have put together this fun quiz for all the massively devoted fans of Harry Styles. This music video has kept us up all night (yeah, pun intended), and we have been dreaming of living in his world, in Harry's House. We know you feel the same because you're wishing the same.
There are so many iconic scenes, so if you're curious about your preference, take our fun Harry-influenced fun quiz, and discover your favorite moment in the video where you'll be sharing the screen with the one-and-only Harry Edward Styles.
It's a once-in-a-lifetime GOLDEN opportunity. Hurry, hurry, hurry!
Did you get what you expected? Are you twirling like a ballerina, peeling off layers, or breaking through the shackles and embracing the freedom?
Share your results with us! We want to know everything, from your first reaction to 'As It Was,' to your sky-rocketing expectations from Harry's House, to your favorite thing about Harry Styles! Hit us up on Twitter, Instagram, and Facebook!
Come on, Harry, we wanna say "goodnight" to you.
To pre-save and pre-order Harry's House and grab your tickets for the Love on Tour, click here.
Do you need more Harry simping in your life? Buzz here! For more poppin' tunes, click here! Which 'Golden' music video inspired Harry Styles' outfit will you claim?
TO LEARN MORE ABOUT HARRY STYLES:
FACEBOOK | INSTAGRAM | HSHQ TIKTOK | TWITTER | WEBSITE
Khushboo Malhotra
Khushboo Malhotra works as a freelance journalist, digital marketing & media strategist, and content marketer featured in various global and national media publications and works alongside B2B, B2C, and eCommerce brands. A wide range of her work spans music and entertainment culture, sustainable lifestyle (including sub-niches), and SaaS. She enjoys writing novels and designing screenplays, grooving at concerts, or exploring new fashion and cuisines that tickle her taste buds when she is not working. Have a story? Get in touch: khushboomalhotra24@gmail.com