Love is in the air for Avril Lavigne and her beau, MOD SUN. Why? Because our favorite Hollywood couple is engaged.
CONGRATULATIONS, LOVE BIRDS!! ❤️
Image Source: Avril Lavigne via Instagram
Pop-punk songstress Avril Lavigne and vibrant musician MOD SUN have taken their relationship to the next level after dating for just over a year as they found their "forever and always" in each other. Avril recently shared the big news on Instagram with her fans, of course, by flaunting her cute, heart-shaped diamond engagement ring, which left us in awe.
MOD SUN proposed to her so romantically in the city of love, Paris, in front of the Eiffel Tower, the epitome of love, and of course, the queen said YES! It feels like a dreamy fairytale romance, doesn't it? We are feeling elated for these two.
Image Source: Avril Lavigne via Instagram
Derek Ryan Smith, better known by his stage name, MOD SUN, is an American singer-songwriter, multi-instrumentalist, and rapper known for his infectious enthusiasm, growing fame, and knack for writing chart-hitting roaring tunes. Avril Lavigne has forever etched her name into music history with her glorifying discography, so it only seems appropriate to commemorate this monumental milestone by remembering and singing along with some of her best love songs.
Ever since she burst onto the music scene, she has gone from being the crush of every skateboarder to an extravagant songstress known for her hard-hitting, evocative lyrics and poignant ballads that will soften your heart. The punk rock queen Avril has dominated every early 2000s playlist with her powerful yet emotional timbres, uniquely her own. Her songs are full of depth and carry messages that are open to interpretation. Therefore, we compiled a few of the top-picked love songs we feel fit perfectly to celebrate this beautiful occasion.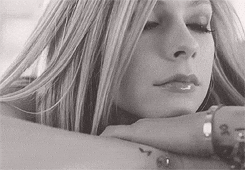 Buckle up for this trip down memory lane and bring along some extra tissues because we know the hard-hitting nostalgia is coming to you.
'Flames' – MOD SUN (feat. Avril Lavigne)
The punk-rock anthem 'Flames' marked a sizzling collaboration between Avril Lavigne and MOD SUN, where the romance between our lovebirds first ignited. You are missing out on something fantastic if you haven't listened to this iconic song yet. Their sultry voices mesh seamlessly and complement each other so well.
"I still burn for you/ Like the sun burns in the sky
My whole life I've been on fire/ I still burn for you
Up in flames, up in flames/ Light a match and put it to my name
Up in flames, I still burn for you."
The song is honest, raw, vulnerable yet fiery, and sung right from the heart, making our punk hearts race! C'mon, it's simply glorious to hear them croon, "Every time I think I had enough of this/ I get more addicted, yeah, I'm so obsessed/ Talk about you all the time, I am your narcissist/ Well if we burn it down you'll be my arsonist." It's getting hot here, and hearts are melting. Oh, we need some fresh air!
'Love Me Insane'
"Baby, let's go insane, insane/ Yeah, you make me lose my brain, my brain
From the minute that/ You asked me what's my name
I know it's a dangerous game/ But love me insane."
In this hauntingly beautiful pop song, Avril reflects on the euphoria she experienced when she met her lover for the first time and felt an instant connection and attraction. She took it by surprise and felt elated, as she never imagined love would come her way, but now she is engulfed in this dangerous game of hearts.
The song conveys the feeling and thrill of being swept off your feet during the "honeymoon phase" of any relationship and cannot get enough of it. The lyrics are incredibly moving, recounting how her lover picked up the broken pieces of her heart and glued them back together with their love, and now she feels crazy in love.
'Dare To Love Me'
"'Cause I know it's a slippery slope/ But I don't wanna give up hope,
Damn, why's it gotta be this hard just to open up my heart?"
We know Avril for her vibrant, grungy pop and punk rock records, but her passionate, soulful ballads are equally profound. Vulnerable, stripped-down instrumentals that shimmer with yearning and affection, coupled with her ethereal vocals on 'Dare To Love Me.' This beautiful, heartfelt ballad opens as Avril hums in her velvety vocals, feeling defenseless, longing for love, and asking her lover if he would stay with her through adversity and never let her go. She wished for him to stay by her side and love her through the darkest of nights, which he vowed to do. We really hope Avril finds her fairytale love this time around.
'Head Above Water'
"I'll meet you there at the altar/ As I fall down to my knees/
Don't let me drown, drown, drown/ So pull me up from down below."
Though the original inspiration for the song was not the feeling of love or a wedding, the lyrics and references made us want to include it on the list. It is the perfect empowering anthem for newlyweds to use as the centerpiece of their wedding. Resembling the wedding vows with sheer vulnerability, it feels like a beautiful prayer for being strong enough to endure all the odds and curveballs that life throws at us and make it to the end, victorious together.
"'Cause I'm underneath the undertow/ Come dry me off and hold me close,
I need you now; I need you most. "
'Kiss Me Like The World Is Ending'
"Kiss me just like the world is endin'/ Give me one last perfect memory
I don't want to say goodbye/ Let's meet up after we die"
Her latest love anthem instantly enthralled us as soon as we heard Avril Lavigne crooning the lyrics. The feeling of love oozed from her sultry voice as she sang, "The stars shine for the two of us/ So sweet and mysterious/ Got a question, baby, truth or dare?/ Spin the bottle, I'll be waiting there, yeah." The song is even more special because her fiancé, MOD SUN, and their beautiful blossoming relationship inspired it. It evokes exhilaration and all kinds of feel-good, crisp emotions, with a dash of cheesy romance and sunny, summery vibes to sing along with on a trip down the road.
"Do you promise it's forever?/ Will you meet me up in heaven?"
'Falling Fast'
"I woke up and saw the sun today/ You came by without a warning
You put a smile on my face/ I want that for every morning."
As we all know, their romance escalated quickly from a love affair to "putting a ring on the finger" because if it is meant to be, it will happen. 'Falling Fast' is an apt song to describe and honor that type of love. The lyrics are self-explanatory, so you'd know what we mean when we say, "When you meet the right person, you can't let them go." Hum along with us, and you'll get the idea.
I'm Falling Fast/ I hope this lasts/
I'm falling hard for you/ I say, let's take a chance/
Take it while we can/ I know you feel it too."
'I Love You'
We loved the song as soon as Avril started singing with her ear-worm vocals. It's a classic Avril Lavigne tune that proves that those wedding songs don't have to be elaborative and detailed. Often, easy-going and simple songs are the ones that capture everything we want to express to our better half. 'I Love You' feels like a breezy, light-hearted yet intimate and loved-up conversation with your special someone, listing all your reasons for loving them.
"I'm not sure you know/ That the reason I love you/
Is you being you, just you/ Yeah, the reason I love you
Is all that we've been through/ And that's why I love you."
It could be their physical appearance that appeals to you the most, and you like how they dress up and present themselves, or maybe it is their beautiful heart and sweet gestures, from kisses to warm cuddles, that sweep you off your feet. When you need someone at 2 a.m., they are by your side or a conversation away to hold you close and make you feel safe. But one thing that we will all agree upon is that we want someone honest, understanding, loyal, and just to be themselves, with no deception. And it seems like Avril agrees with us.
'Keep Holding On'
"You're not alone. Together we stand/
I'll be by your side, you know, I'll take your hand
When it gets cold and it feels like the end
There's no place to go, you know, I won't give in"
The song is reminiscent of wedding vows or a reminder of the years spent together, making promises to stay eternally devoted to each other. It significantly urges the lovers to hold on to each other through thick and thin and not give in during difficult times, no matter what. The strength to endure will come from their love, devotion, and commitment, which will allow you to make it through the end.
Which is your favorite song by Avril Lavigne? Tweet us @TheHoneyPOP or find us on Facebook and Instagram to let us know what you are thinking!
Want to read more about your favorite artists? Don't worry, we have you covered! Check out more here!
TO LEARN MORE ABOUT AVRIL LAVIGNE:
FACEBOOK | INSTAGRAM | TWITTER | YOUTUBE
TO LEARN MORE ABOUT MOD SUN:
FACEBOOK | INSTAGRAM | TWITTER | WEBSITE | YOUTUBE
Khushboo Malhotra
Khushboo Malhotra works as a freelance journalist, digital marketing & media strategist, and content marketer featured in various global and national media publications and works alongside B2B, B2C, and eCommerce brands. A wide range of her work spans music and entertainment culture, sustainable lifestyle (including sub-niches), and SaaS. She enjoys writing novels and designing screenplays, grooving at concerts, or exploring new fashion and cuisines that tickle her taste buds when she is not working. Have a story? Get in touch: khushboomalhotra24@gmail.com