We are back again with another list of favorites, this time for MooMoos and about Mamamoo's Wheein! She has put out some amazing solo songs over the years, whether it's official solo work, OSTs, or even collaborations with other artists. Last year, we finally got to see her release her first mini-album, Redd, which was truly a masterpiece. This year, she released her second mini-album, Whee, and word on the street is she has another little something-something in the works for later in the year 👀. But for now, we're going to highlight six Wheein songs we absolutely love because this vocal goddess deserves the praise. Go ahead, press play!
[apple_music_ad artist="Wheein"]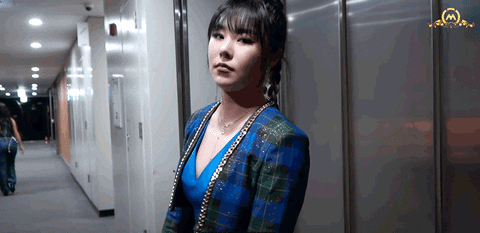 1. 'Water Color' (Redd)
'Water Color' was Wheein's debut as an official soloist, and what a mark she made! This song is fun, colorful, and groovy, and Wheein absolutely slays with her incredible vocals. 'Water Color' is a bit of a nod to Wheein's artistic side as well, many of the lyrics use art terminology to describe how she will express herself through (water) colors. It's a bonafide spirit-lifter as the melodies and harmonies are bright and cheery, and the beat most certainly makes you want to get up and dance. In Wheein, we trust 🙏.
2. 'Easy' (Feat. Sik-K) (Single)
'Easy' dips more into Wheein's R&B side as we take it back to 2018 for this solo release. Here Wheein seems to sing about a lover who is just giving her a little bit of trouble, and she adamantly asserts that she's not 'Easy.' If you know Wheein, you'd also know she tends to gravitate toward a more R&B sound with her music, and this song is solid proof. Wheein's smooth, silky vocals mesh remarkably well with Sik-K's rap to create a sweet little earworm. Perhaps you can send it to your lover who's also giving you a little trouble… or add it to your driving playlist, either one works!
3. 'Ice Cream Love' (OST)
Wait one second while we wipe our tears. Okay, now we're ready. 'Ice Cream Love' is an OST, but it's literally the most perfect love song to exist on the planet. Wheein opts for an airy sound with her vocals, which makes the song softer and more intimate. It's almost like a whispered conversation between a couple in love while they share ice cream (nope, we're still crying). It's slower with a light beat, but the emphasis is on the melodies that almost sound like stars twinkling in the night sky. Maybe this song is also perfect for a slow dance with your lover. Gosh, this song is so beautiful.
4. 'Pastel' (Whee)
Okay, now we're onto Wheein's second mini-album, Whee. 'Pastel' is another nod to Wheein's artistic side (can you tell she loves art?) as she uses more art terms and references in the lyrics. This is also a love song, chronicling how her lover makes her life more colorful since coming into her life. She also compares their love to bursts of color and calls her lover her 'Pastel.' The melody is primarily carried by a plucky guitar and eccentric percussion, but it draws you in along with her honeyed vocals. We also get to hear Wheein utilize her lower register, which we don't usually hear as she tends to use her upper register in most Mamamoo songs and her own songs. It's a short song, but it's definitely a vibrant one.
5. 'Butterfly' (Feat. GSoul) (Redd)
'Butterfly' is another track off of Redd, and it features K R&B singer GSoul (we love you, GSoul). This track is a bit more melancholy, as it details a couple needing to let each other go, as holding onto each other would cause more pain (the same way holding onto a butterfly would hurt it). It's still filled with a lot of love, as the lyrics clearly show that this couple wants to stay with one other. It's also an allusion to Wheein's fondness for butterflies! Wheein and GSoul's gorgeous vocals complement each other as they both capture the bittersweetness of having to let your lover go. The instrumentation matches the mood of the song, with a prominent acoustic guitar and piano backing up the vocalists. Two things we also love are Wheein and GSoul's harmonization and Wheein's extra adlibs at the end of the song. Overall, despite being more on the sad side, this song is beautiful from beginning to end.
6. '25' (White Wind)
'25' isn't formally a Wheein solo release, as it's actually on Mamamoo's 2019 EP, White Wind, but it is her solo on the album. The title of the song references her age when the song is released. The song is about how she is scared of continuing to grow up as she's still a little bit clumsy at age 25 and how she misses the days when she was younger. It's a very relatable song, as we all reach that point in our lives where we become scared at the uncertainty that the future brings. The song feels very dreamy and also seems to have that R&B feel we all know Wheein loves. The melodies and her vocals in conjunction are relaxing, almost comforting, if you will. It's especially reassuring that Wheein understands this struggle as we know that we're not alone.
The Magnolia In The Garden Of Wheein
And that's it…for now (hehe). We'd also love to give some honorable mentions to 'Moderato (feat. Hash Swan),' 'OHOO,' 'Springtime,' 'Letter Filled With Light,' 'Paraglide,' and 'Goodbye' (and every OST she has ever released). Her covers are also to die for, so definitely go check those out too! We could never get tired of Wheein and her lovely voice. The universe has given us a gift in the form of Jung Wheein, and we at The Honey POP couldn't be more grateful. Now we must wait until she drops her next project (*cries*).
So now you get to tell us your favorite Wheein tracks! Did you like our choices of six Wheein songs we love? Which ones give you chills or make you feel like you're getting a personal hug from Wheein herself? Don't be shy, come and tell us! Leave a comment below or slide us the list through our Twitter, @TheHoneyPop, Instagram, and/or Facebook! Keep your eye out for Wheein in the meantime. You never know when she's going to drop something…
TO LEARN MORE ABOUT WHEEIN:
FACEBOOK |  STAFF INSTAGRAM | PERSONAL INSTAGRAM | TWITTER | YOUTUBE
TO LEARN MORE ABOUT MAMAMOO:
FACEBOOK | INSTAGRAM | TWITTER | YOUTUBE