After days of agonizing waiting, we demigods finally have our main trio for the Disney+ show adaptation of Percy Jackson and the Olympians! Everyone, please welcome Leah Sava Jeffries as our Annabeth Chase and Aryan Simhadri as our Grover Underwood. They'll be acting alongside Walker Scobell and we're so happy to finally see the gang all together for the show!
With the main three now announced, it is now the perfect time to get a little familiar with them, and what better way than with a binge-fest! Listing everything the trio from Percy Jackson and The Olympians has been in might take a while. So, we're giving you performances where they acted most like Annabeth, Grover, and Percy!
Starting Off With Leah Jeffries, Our Wise Girl
Leah Jeffries has been in the acting game pretty young, ever since she was three in fact! As a Metro Detroit native, she started acting in local commercials before moving to TV and film. She's been in shows like Fox's Empire alongside Taraji P. Henson and the Y2K queen of Disney Raven-Symoné, REL, and in the Lifetime TV Network Film Faith Under Fire. But if you really want to see the closest portrayal of Leah as Annabeth Chase then we got you right now!
Her Portrayal of Erica In REL Is Giving Annabeth Vibes
If you want to see a possible portrayal of how our new Annabeth is going to act in the Percy Jackson and the Olympians show, then look no further than Leah's portrayal as Erica in the Fox comedy show, REL. Leah as Erica, the daughter of the recently divorced Rel, is downright hilarious and cheeky. Erica always has something smart to say and seems at times quite mature for her age. Erica is somewhat similar to our Annabeth Chase and if this is the type of performance Leah gave to Rick and the casting crew, then we can see why she got the part!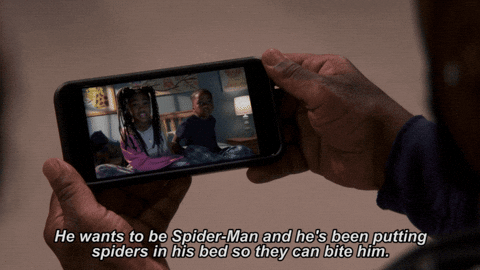 You can catch more of Leah's performance as Erica in her acting reel on IMDB. But if you need more, check her out in REL, now streaming on Hulu. Also, make sure to catch Leah in the upcoming Amazon Original movie, Something from Tiffany's, and the Universal Pictures thriller, Beast coming out on August 19, 2022.
Next Is Aryan Simhadri, Our G-man
If Aryan looks familiar to you that's because he probably is. Our new Grover has been acting for quite a while. Over 11 years, in fact, which is quite impressive given that he's just 16! He first started in a Qualcomm commercial before moving onto TV, where he would star in shows such as ABC's How to Live With Your Parents (For the Rest of Your Life), Will & Grace, and Just Roll With It. And that's not all! Aryan has been in his fair share of movies like Netflix/WWE's The Main Event, The SpongeBob Movie: Sponge On The Run, the Disney+ reboot of Cheaper By The Dozen, and the Disney Channel Original movie, Spin. And if his voice sounds like a character you know from Adventure Time, it's because he voiced Tiffany from the HBOMax Original Distant Lands.
Yeah, that's quite a resume and it's not even encompassing his full work history. Those are just the highlights in addition to the Percy Jackson and the Olympians Disney+ series.
We're Seeing A Bit Of Grover With Aryan As Riyaz In The Main Event
In Aryan's long list of acting portrayals, we see Grover the most in his performance of Riyaz in the Netflix/WWE movie, The Main Event. Like Grover, Aryan plays Riyaz, one of the BFFs of the main character Leo. Not only is Aryan's portrayal of Riyaz quite funny like a certain satyr we know, but he also offers some pretty nice advice and always has Leo's back. Again, just like Grover to Percy.
You can watch The Main Event over on Netflix and tell us if you are seeing some Grover in Riyaz too!
Last But Not Least Walker Scobell As The One The Only Seaweed Brain
We already know Walker is going to be our Seaweed Brain for the Percy Jackson and the Olympians show. But for those who don't know, well now you know! And if you really want to see a possible glimpse of Walker being as sassy as our Percy, we got just the movie for you!
Walker Giving The Ultimate Percy Jackson Energy In The Adam Project
There's no better proof that Walker is our Percy Jackson than in Netflix's The Adam Project. Walker plays a 12-year-old version of fighter pilot Adam Reed, who is portrayed by no other than Ryan Reynolds. And Walker's acting here is just simply giving! It reminds us too much of Percy — sassy, sarcastic, and a little immature at times — and we're sure you'll agree with us once you watch the film! Honestly, it makes us all the more excited to see Walker grace our screens once the Percy Jackson and the Olympians series actually does hit Disney+.
Get a taste of Walker's performance on The Adam Project on Netflix, now streaming over here!
We're so glad to see Leah and Aryan play our favorite Wise Girl and G-man! And we can't wait to see the trio in all their glory in the Percy Jackson and the Olympians series! What scenes are you excited to see them act out? Got any guesses as to who's going to play Clarissa and Nancy? Let us know down in the comments. You can also catch us over on our Twitter, Instagram, and Facebook!
For more streaming news and things to watch, we gotcha right here! Or if books are more your style, then buzz on over here!
TO LEARN MORE ABOUT DISNEY+:
FACEBOOK | INSTAGRAM | TWITTER | WEBSITE | YOUTUBE