BTS has become a strong voice for a variety of important and pressing causes and its influence is now fully established. All they needed was that last step, a meeting with the American president at the White House. They were invited by President Biden in honor of Asian American, Native Hawaiian and Pacific Islanders Heritage Month (AANHPI Heritage Month) on May 31.
The program will include anti-Asian racism, diversity and inclusion, youth, arts and culture. All these themes are dear to the group and they never hesitate to speak about them with great sincerity. As a tribute to their words, it's time to take a close look at three of the causes the band has publicly supported.
BTS Owns The Most Retweeted Tweet Of 2021
As you know ARMYs, our dear BTS have already spoken out about anti-Asian crimes. RM had taken to the group's personal Twitter account with strong condemnation of the racist actions. Of course, he took the time to translate it into English as well. His clear message of tolerance was welcomed and much appreciated by the ARMYs.
And the message ended up being the most retweeted tweet of 2021. BTS's voice is currently the most influential, we can be sure. It goes without saying that BTS has broad shoulders considering all the hate they have already garnered. It's brave and noble of them to keep fighting for this cause. We hope they will have meaningful discussions on that topic during their visit to the White House.
Love Yourself, The Most Significant Message of BTS
Among all the causes that BTS defends, this one is so important and clearly defines the band! If you listen to their music, especially the 'Love Yourself' trilogy, the message of tolerance towards oneself is the common thread. The whole trilogy is full of injunctions to love one's self and became the main topic for 'I'm Fine,' 'Answer: Love Myself,' 'Paradise,' and so much more… A bunch of great songs indeed.
Remember, in the ballad 'Epiphany,' Jin sings "I'm the one I should love in this world, Shining me, precious soul of mine, I finally realized so I love me, Not so perfect but so beautiful, I'm the one I should love." Here, we should listen to 'Epiphany.'
But they have decided to take their message further by acting for real. They partnered with UNICEF in 2017 and then renewed in 2021. The campaign was launched to help abused and neglected children and teenagers. You can find more information on their official website, right here.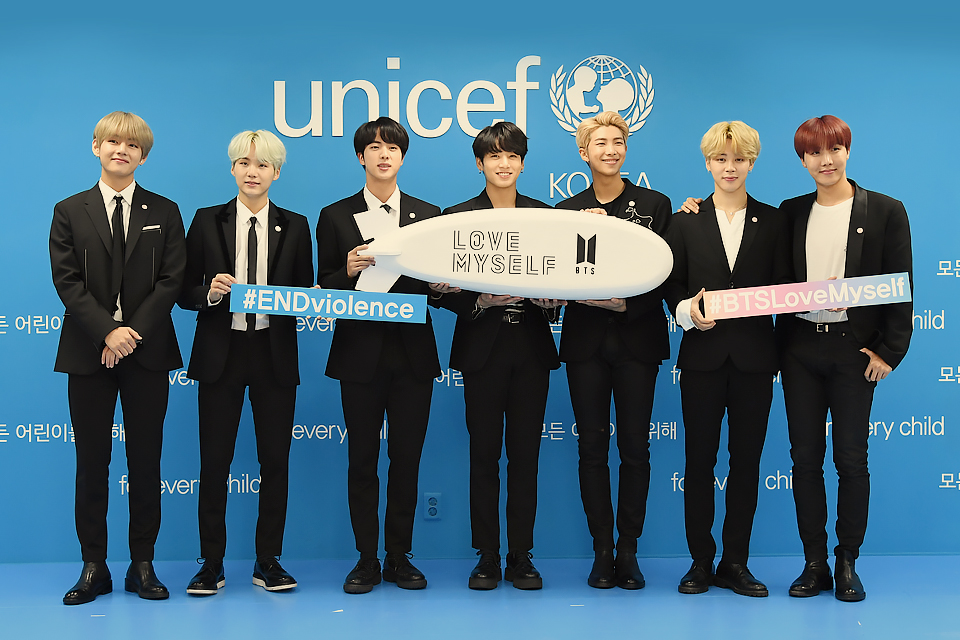 More than $3.6 million has already been raised, not to mention the several million interactions on the networks with the hashtag #ENDviolence.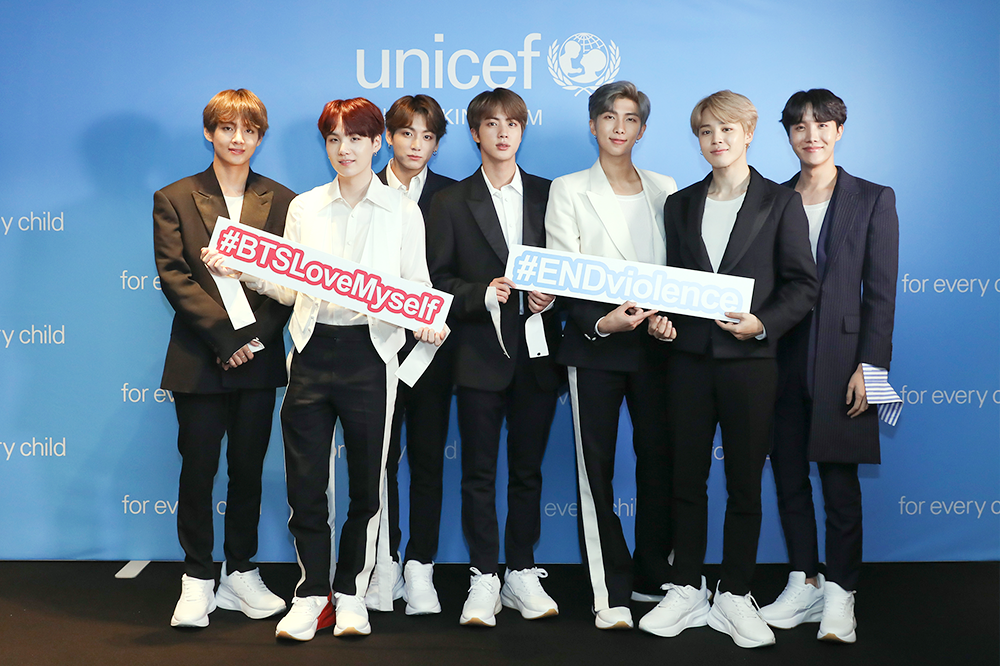 To talk about this, remember they visited the United Nations in September 2018 where Namjoon said that famous phrase: "So, let's all take one more step. We have learned to love ourselves, so now I urge you to "speak yourself."
With his talent for speech and the power of his words, Namjoon prooved that BTS clearly deserved their right to speak at the United Nations. And, well, it was such a success that they returned last year as 'Special Presidential Envoy for Future Generations and Culture'. BTS' impact…
BTS Takes A Definite Stand For Tolerance
In June 2020, it was announced that BTS had donated $1 million to Black Lives Matter. Jin said to Variety: 'When we're abroad or in other situations, we've also been subjected to prejudice. We feel that prejudice should not be tolerated; it really has no place.'
See Also
Recognition also goes to ARMYs who raised the same amount in 25 hours in response to the group's donation. Watching BTS so vehemently advocate for absolutely just causes gives us hope and strength. It's clear that with BTS as a role model, ARMYs are encouraged on the right path. And with ARMYs by their side, BTS can go so far! Better be prepared, BTS legacy will go way beyond their music.
We can't wait to see the BTS at the White House! BTS were flying to the US faster than we even knew about this meeting. Jung Kook took the lead and left first (we are still working out some theories. A collaboration? A project?). The rest of the group will follow really soon. See you in US Bangtan 💜!
What causes do you like to see BTS defend? Have you ever donated to support BTS campaigns? Be sure to let us know by tweeting us at @thehoneypop or visiting us on Facebook and Instagram! Want to know more about K-Pop latest news? Here you are!
TO LEARN MORE ABOUT BTS:
FACEBOOK | INSTAGRAM | TWITTER | WEBSITE