Emei first came to our attention with her single 'Late To the Party' in 2021, with the song garnering an impressive 4.1 million streams and being, quite frankly, addictive to listen to. However, she is now back with her newest single 'That Girl,' and we at THP think it may be her best song to date. So, we're here to introduce you to Emei and hopefully convince you to download her newest single as we think she is certainly going to be someone to watch out for. Trust us, you're not going to want to be 'Late To The Party' when it comes to stanning Emei.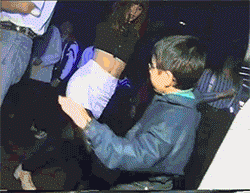 Who is Emei?
Emei is an LA-based singer-songwriter who specializes in creating alt-pop bangers that you'll never get tired of hearing. She got her start on Chinese Idol when she was just 15, placing third in the competition before starting to release her own music on Chinese platforms. Since the start of the pandemic, she has started to release singles on American streaming platforms and has collaborated with artists such as Gnash, Jordan Lewis, and Myles Avery.
As well as 'Late To the Party' and 'That Girl,' Emei also has the songs 'Distracted' and 'Better People To Leave on Read.' Both of these songs deserve as much praise as her other singles and are certainly worth a listen! 'Better People To Leave on Read' discusses the idea of leaving behind toxic people, whereas 'Distracted' talks about fantasizing about someone you like and thinking a bit far ahead of yourself. These four songs and the diversity of topics they discuss perfectly highlight Emei's lyrical prowess and range, meaning we simply have no choice but to stan!
'That Girl'
Now, onto the most important topic at hand: Emei's newest single, 'That Girl.' While the song is wholly unique and fresh, it cultivates a similar mood to songs such as 'jealousy jealousy' and 'brutal' by Olivia Rodrigo or 'Want Me' by Baby Queen, making it perfect for fans of that angsty yet energetic and fun vibe that we at THP absolutely adore.
'That Girl' is Emei's second single of the year, and, prior to release, it had already gained 13k pre-saves. Despite only being two minutes and twenty seconds long, Emei is still able to create a song that packs a punch, and she mainly does this through her lyricism. The edgy-sounding pop song provides a sharp commentary on the 'that girl' trend that was first popularised on Tik Tok.
The lyrics of 'That Girl' inject Emei's classic sense of cheekiness to satirize the trend, making it feel far more relatable and realistic than the trend itself. Emei combines these lyrics with rock-inspired instrumentation, blending together more minimalistic verses with heavily packed choruses and melodies that you simply won't be able to get out of your head. Together, these factors create the perfect song for blasting loudly, and singing along to at the top of your lungs. Well, that's at least what we've been doing since its release. When discussing the song, Emei stated:
"Written on a whim after weeks of trying to keep a habit checklist and failing miserably. The pop-rock-inspired anthem encapsulates the energy of wanting so badly to be that girl who wakes up at 6 AM, goes on walks every morning, and drinks coffee black but never getting to that unattainable goal."
'That Girl' is certainly not one you're going to want to miss out on, so make sure to add it to your playlists before we gatekeep Emei and keep her flawless discography for ourselves.
What do you think of 'That Girl?' What is your favorite Emei song? Be sure to let us know by tweeting us @TheHoneyPop or visiting us on our Facebook and Instagram.
TO LEARN MORE ABOUT EMEI:
INSTAGRAM | TIK TOK | TWITTER | YOUTUBE