dodie got their start on YouTube in 2011, releasing 'Rain,' her first original song, onto their "doddleoddle" channel. Since then, dodie has released multiple EPs, demos, and singles as well as their critically acclaimed debut album Build a Problem, released in May 2020, and we have loved every single release. Whilst being well-loved for her soft vocals and signature ukulele, dodie is perhaps best known for their poetic lyrical style, allowing them to convey a well-crafted story within every release. Her newest single, 'Got Weird,' is of course no exception to this!
Discussing the topics of sexuality and strange dates in a way that is intimate yet lighthearted and fun, dodie's 'Got Weird' is a meaningful earworm. When discussing the song, dodie described it as being about a weird date and getting "the ick" with themself when they date girls, ultimately making her realize that she has some stuff she needs to figure out. Honestly, only dodie could make a song about something so personal this enjoyable and catchy.
So, to celebrate dodie's highly anticipated return with 'Got Weird,' we're here to highlight their lyrical prowess by discussing a few of our favorite lyrics from this exciting new release!
"Table for two, that's all sorted / I played the man and you bought it"
When discussing the song, dodie mentioned a sense of "faux" confidence that she felt while on this date. This is perfectly captured in this line, comparing their sense of confidence to masculinity and the heteronormative idea that a man should be the one to organize a date. However, the fact that she says the date "bought it" suggests dodie's underlying sense of self-doubt. We also have to note how much we love the minimalistic instrumentation that can be heard behind this line, with dodie opting for a simple percussion and a funky bass riff before bringing in more elements in the chorus and second verse.
"Tell me I'm attractive / Is she a date or a captive?"
Another thing that makes dodie and their discography so enjoyable is how relatable she is, and we're sure that this line from 'Got Weird,' in particular is a relatable one for lots of people. Here, dodie is describing the sense of nervousness and self-doubt that she felt on this date, making them feel as though they needed reassurance from the other person. We would just like to say dodie, if you're reading this, feel free to hit us up anytime you need reassurance. The THP team would, honestly, quite gladly be your personal hype people. *cheers for dodie*
"Poured a drink all over my wiring / Short a fuse, all cylinders firing"
Here, dodie is describing their sense of nervousness whilst on this date, using the action of pouring a liquid over electricals as a metaphor for the feeling of panic or uncertainty she feels. This is a great example of the way dodie uses their lyrics in a poetic way. With this line, she is able to portray such a specific type of nervousness and does so with imagery that we can all instantly feel and picture. dodie's discography is truly a masterclass in how to tell a story through song.
Okay, we're going to call it a wrap on our gushing about how much we love dodie and her lyrics because we could really be here all day talking about them.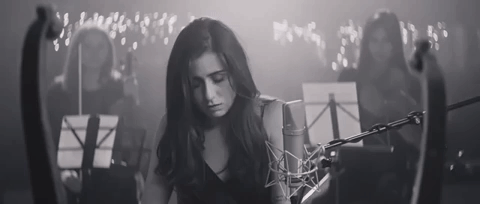 What do you think of 'Got Weird?' What are your favorite dodie lyrics? Be sure to let us know by tweeting us @TheHoneyPop or visiting us on our Facebook and Instagram.
TO LEARN MORE ABOUT DODIE:
INSTAGRAM | TWITTER | WEBSITE | YOUTUBE