We at The Honey POP firmly believe that Halloween is the best time of the year. From stuffing your face with candy to hanging out with your friends, you really can't top this creepy holiday! However, one of our least favorite parts of Halloween is having to last-minute plan an outfit. We've all been there, haven't we? Sat in our rooms on October 29th, wishing that we'd organized an intricate and memorable costume just a little bit sooner. 
But fear not! We're here today to show you some of the most iconic costumes from our faves and to hopefully give you some ideas for your own costumes. Whether you're going in a group, as a couple, or flying solo, we've got something for everyone!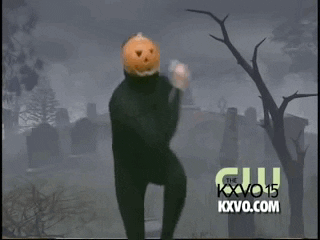 Ariana Grande As The Gill-Man (Gill-Woman?)
As we all know, Ariana Grande is the queen of iconic Halloween costumes and she really reminded us of this last year when she dressed as The Gill-Man from Creature from the Black Lagoon. While the prosthetics may pose a challenge, we think it would be so awesome if someone actually tried to recreate this look. 
Madelaine Petsch & Camila Mendes As Daphne & Velma
While we all know Madelaine and Camila for their roles in Riverdale, this costume convinced us that they would be the perfect casting choice for a new live-action Scooby-Doo movie. Like, we seriously haven't stopped thinking about these iconic costumes for the last year. This idea would be super easy to recreate and perfect to coordinate with your bestie!
Lisa As The Squid Game Doll
After the huge success of Netflix's Squid Game, we saw tons of people dressing up as various characters from the show. However, if we had to pick our favorite Squid Game costume, it would have to go to BLACKPINK's Lisa. She recreated this costume so well that we think it would be the perfect source of inspo for any K-drama fan!
Harry Styles As Dorothy Gale
Harry wore this iconic look at his sold-out Harryween show in 2021 and we are still incredibly jealous of anyone who got to see it live. While Harry does look stunning in this costume, it is a fairly simple one to recreate and could easily be made into a group costume with a few friends to dress as the Tin Man, the Cowardly Lion, and the Scarecrow.
Key As Ronald McDonald
SHINee's Key as Ronald McDonald lives in our heads rent 👏🏻 free 👏🏻. Not only is it a super creative and fun costume idea, but it also gave us the iconic clown meme that we all regularly see on our social media feeds. This is another super easy costume to recreate and could be made even more iconic with some McDonald's-inspired accessories. An empty Happy Meal box perhaps? Or maybe even a full Happy Meal box, if you're feeling a bit peckish. 
Jungwoo & Taeyong As Bella Swan & Edward Cullen
Controversial opinion: the SMTown Halloween Party >>> the Met Gala.
The SMTown Halloween party gives us iconic looks every year, but our reigning favorite has to be NCT 127's Taeyong and Jungwoo's Bella and Edward costumes from 2021. This is another easy look to recreate and would definitely make for some fun Instagram posts!
Lil Nas X As Voldemort
If Ariana Grande is the queen of Halloween costumes, then we think Lil Nas X could definitely be the king. This was our personal favorite of the two Halloween costumes he blessed us with last year, but we think any of Lil Nas X's looks would be great for recreation. Paired with a few friends dressed as Bellatrix Lestrange, Snape, or any of the Malfoys, you've got the perfect group costume for any Potterhead!
BTS As Snow White & The Seven (Six?) Dwarfs
For Halloween 2017, BTS decided to dress up as Snow White and the Seven Dwarfs and it was highkey iconic. While these costumes weren't the most practical for the dance video they were filming, we think this would be a super fun costume for any large group of friends!
Halsey As Eleven
If you binged season four of Stranger Things as quickly as we did and have been missing it every day since, Halsey has the perfect Halloween costume for you! Tons of people online have pointed out how similar Millie Bobby Brown and Halsey look, making this costume even more iconic than it already was. This is another look that can so easily be made into a group costume by rounding up a couple of friends to go as Steve, Robin, Vecna, or any character they want!
Gigi Hadid As Sandy
We love literally everything Gigi Hadid does, but her Sandy costume from Grease was particularly iconic. This is the perfect source of inspo for any musical fan and could very easily be accompanied by a series of other Pink Ladies or your own Danny Zuko.  
Kaia Gerber & Jacob Elordi As Elvis & Priscilla
After we were all stunned by Austin Butler's epic performance in Baz Luhrmann's Elvis, we couldn't think of better costumes than Elvis and Priscilla! Kaia Gerber and Jacob Elordi absolutely killed this couple's costume, but you could still recreate either of these looks and fly solo!
Taylor Swift As Deadpool
Perhaps one of her most iconic Halloween costumes, Taylor Swift as Deadpool truly lives in our heads rent-free. Now, while we can't all have Ryan Reynolds as our bestie to loan us the actual Deadpool outfit, we still think this costume is the perfect source of inspo for any big Marvel or superhero fan!
Saweetie As Every Member of Destiny's Child
We're gonna say it: Saweetie owned Halloween 2020. Going as every member of Destiny's Child was an absolutely genius idea and we were living for it. While this may have been a solo costume, going as Destiny's Child would be a great idea for any group of three. You could even go as any of your fave girl bands! For instance, a group of four could go as BLACKPINK or a group of five could be the Spice Girls. The possibilities are endless!
Lana Condor As A Cow
For those who want an easier costume that is still very fun, Lana Condor has the perfect idea for you! Lana's adorable cow costume blessed our Instagram feeds in 2021 and we think it would be a great costume to recreate for everyone who doesn't want to look too scary, but still wants to turn heads.
Chenle As Pennywise
Honestly, we could have just filled this list up with NCT members if we wanted to because they always have super memorable and fun Halloween costumes. Chenle absolutely nailed this costume, creating a look that is both terrifying and iconic all at once. This idea would be perfect for anyone that wants to stick to a more traditionally scary look for their Halloween costume. 
So, what are you dressing up as for Halloween? Be sure to let us know by tweeting us @TheHoneyPop or visiting us on our Facebook and Instagram! And for more Halloween content, click here.