Is there anyone delivering modern 70s rock realness like Micky James? We don't think so! The Pennsylvania rocker is constantly finding new ways to upcycle retro vibes into something fresh and his own. If you're new to his music, or a longtime fan looking to dive back into his hits, look no further! Here are five of our favorite Micky James songs.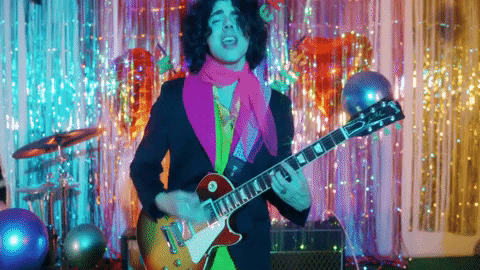 'Not Okay'
Ever wanna feel like you're the main character of an indie coming-of-age film? If so, 'Not Okay' is the song for you! We love the song's messages of supporting those around you and not being afraid to reach out for help if you're struggling. And we're still not over the sweet, immersive music video!
I wanted to create a narrative-based video featuring two young adults that are a couple growing up in suburbia. It's them vs. the world, and they are each other's only light in a dark, frustrating existence. A series of shots showing this dynamic between them and how it comes into everyday life. Aesthetically, I wanted to present this feeling of nostalgia and melancholy. Early John Hughes films came to mind.

Micky James
'Walk The Line'
One of Micky's most popular songs, 'Walk The Line' celebrates individuality and self-expression with a fun keyboard intro and buzzy guitar. We're honestly tempted to get "change for no one" tattooed! This one's a necessity on your mood boost playlists.
'Crybaby'
'Crybaby' is full of zinger lyrics – even the opening line is a play on words, "wondering if you're pretty or you're just pretty strange." Between the cowbell, the exaggerated cries in the last chorus, and Micky's signature rocker flair, the production and replay value are immaculate!
'Rest Of The Best' Feat. DREAMERS
'Rest Of The Best' gives all the best late summer, hopeful for the future, fun night with friends vibes! It's such a high-energy song and DREAMERS' guest verse manages to add some fun variety while still staying cohesive with Micky's verse and vocals.
'Shiver'
'Shiver' might be the best song to recommend to anyone looking to get to know Micky's signature sound! It's as easy to listen to as a nostalgic pop song, but still has an edge thanks to its punchy guitar and emotional lyrics about a crumbling relationship.
What's your favorite Micky James song? Let us know in the comments below or hit us up on Facebook, Instagram, and Twitter! If you want more new music to check out, click here.
TO LEARN MORE ABOUT MICKY JAMES:
FACEBOOK | INSTAGRAM | TWITTER | WEBSITE | YOUTUBE
Featured Image Source: Zakk Connor