Bring Me The Horizon are one of our favorite things about the UK and their show at Glasgow's SSE Hydro was a blast. In one of the biggest parties we've had in a long time, this visual and sonic experience was like nothing else we've seen!
[apple_music_ad artist="Bring Me The Horizon"]
Nova Twins
Nova Twins took the stage first in a class demonstration of stagecraft. The South London duo (Amy & Georgia) have been steadily winning over hearts with their eclectic mix of abrasive grime-punk style and we're head over heels in love with their music too! We're yet to meet a more bouncy band in the rock scene which made their set the greatest way to start a night of moshing and headbanging. 
You Me At Six
Next up were every emo's favorite feel-good band; You Me At Six. The nostalgia this band creates at all their shows is a sight to behold and frontman Josh Franceschi has us right up in our feels. 
If we spent a bit of time being nicer to strangers then maybe just maybe we could take on the world

Josh Franceschi, introducing 'Take On The World'
Bring Me The Horizon
Then, in almost no time at all, the lights drop for a final time. Cannons blast and punchy guitar echoes through the arena. Bounding onto the stage in quick succession is Bring Me The Horizon's charismatic Oli Sykes. You wouldn't expect there to be such joy at such a heavy show but the grin plastered across Sykes' face had us beaming right back at him! 
The set seamlessly transitions to the familiar drums from Mat Nicholls that signal the beginnings of hit single 'MANTRA.' First debuted at a surprise set in 2019 at Reading Festival, 'MANTRA' is a track that fully encapsulates this post-Sempiternal band. Striking a balance between their deathcore metal roots and a new lighter sound is a near-constant battle for the Sheffield five-piece. But it's a balance well-trod, as the staging transitions into a LED cage for fan-favorite 'The House of Wolves.' 
By this point, we're waist-deep in mosh pits, crowd surfers, and beer but the atmosphere is electric. The tunes keep coming with 'Medicine,' 'Happy Song,' and 'Ludens' before the night takes a theatrical turn in a quintessentially BMTH way. Not only are they one of the UK's biggest bands right now, but they're also one of the most sonically and physically experimental. The result? A feast for all senses including voiceovers re-enforcing the post-apocalyptic world it feels like inside The SSE Hydro. 
Dear Diary, these specimens are like nothing I have ever seen before…A large hoard have broken into the arena…Myself and my team are going to attempt communication once more with these wretched creatures, it's time to see exactly what they're made of. 

Oli Sykes (BMTH), 'Dear Diary' interlude
We respond in the way we know best; more mosh pits, more jumping, and more debauchery. The ruckus continues through 'Dear Diary' and through the timely track 'Parasite Eve.' In what's been a full-on set, no one (not even the band) shows signs of slowing down. 'Shadow Moses' and 'wonderful life' carry the show's vibe further and before we know it Nova Twins reappear in a glorious rendition of '1×1.' 
Sykes introduces their latest single 'DiE4u' which has us right up in our emotions feeling closer than ever to a band we've loved for years. 
You know I never used to get it when some of yous said we saved your life but I get it now. Broken people fix broken people and you've saved us so many times.

Oli Sykes (BMTH)
It's a sentiment that, for us, encapsulated the entire evening. The past year and a half has been a long struggle. Which made the post-apocalyptic ball a night we won't be forgetting for a long time. Bring Me The Horizon are a band who, at their core, make great music and put on great shows. We're just lucky we get to watch the madness unfold before our own ears and eyes!
Set List
'Teardrops'
'MANTRA'
'The House of Wolves'
'medicine'
'Happy Song'
'Ludens'
'Dear Diary,'
'Parasite Eve'
'Shadow Moses'
'wonderful life'
'1×1'
'DiE4u'
'Itch For The Cure'
'Kingslayer'
'Follow You'
'Drown'
'Obey'
'Throne'
'Can You Feel My Heart'
What's been your favorite Bring Me The Horizon show? Let us know by tweeting us over @TheHoneyPop and we can reminisce together!
Want more rock content? We've got you, honey!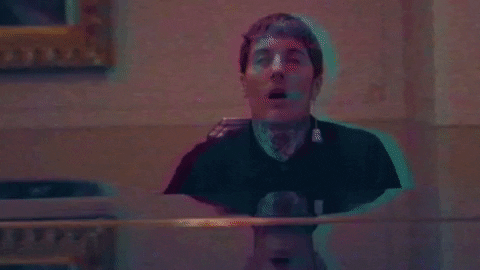 TO LEARN MORE ABOUT BMTH:
INSTAGRAM | TWITTER | WEBSITE | YOUTUBE
Featured Image and Gallery Source: Sophie McCarthy for The Honey POP