If you were not at the Twenty One Pilots show in Houston, you surely missed out on an amazing show. Old fans and new ones were out and ready for a fantastic set by our favorites Tyler Joseph and Josh Dun. The Icy Tour really brought the house down and we are so thankful we got to experience it.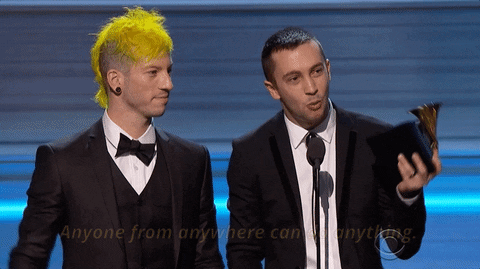 Peter McPoland
The Icy Tour kicked off with a bang with an amazing opener set from Houston's very own Peter McPoland. You know if you've read our articles before that we absolutely adore Peter. His high energy and love for interacting with fans made him a huge asset to getting the crowd hyped up for Twenty One Pilots.
You know when you just know someone is going to be a star? That's how we felt watching Peter run around that stage and interact with the crowd. There is a reason TØP asked him to open for them on this tour. We know he is going to go so far in this industry and we can't wait to see it happen.
Our favorite Peter McPoland songs: 'Tonight,' 'News at 9,' and 'Romeo & Juliet'
Twenty One Pilots
It was finally time for the reason we were all in that very arena. Twenty One Pilots came on stage after an intro video of them walking through an icy terrain with a blue door that flew slowly over their heads. The crowd immediately was on their feet and ready for our faves to take the stage. And take the stage they did!
All of Twenty One Pilots' tours are incredible and this one was no different. With multiple stages and insane pyro and lights emitting from the stage, TØP was putting on a show that anyone would be amazed by. Although we knew they would be incredible, being able to witness their artistry in person was something we will never shut up about.
New fans and old will find their favorite song on this setlist. They deliberately made sure to include over 30 songs on the set list with a variety of full-length and shorter medleys.
I get the vibe there's a lot of dads here that just like [our song] 'Ride.'

Tyler Joseph
Our favorite part of the entire set had to be when Tyler jumped onto a mattress and had the crowd move him from one side of the arena back to the main stage. Something we never thought we'd see, but are very happy we did.
Check out our photos from the show below!
We are so happy that we got the chance to see one of our favorite bands in person! We just know this duo will be in the game for a very long time. Have you been to the Icy Tour? If you haven't, we highly recommend you keep an eye out for future tour dates here. You will not regret it!
If you could ask Twenty One Pilots any question, what would you ask them? Let us know in the comments below or chat with us on Twitter and Instagram.
Want more live reviews? We got you!
TO LEARN MORE ABOUT TWENTY ONE PILOTS:
INSTAGRAM | TWITTER | WEBSITE | YOUTUBE
Brittaney Penney
Co-Owner + Lead Photographer of The Honey POP. Lover of Dr Pepper Zero, Christmas lights, and cross-country road trips.