It's been a few months since we were blessed with State Champs' Kings Of The New Age and a lot has happened since then. They partied on the Sad Summer Fest stage in multiple cities across the US, they played some shows with Hot Mulligan and The Summer Set, and they announced an Australian run of shows – a busy summer indeed! And the year is only getting busier for State Champs because the Kings Of The New Age Tour is coming!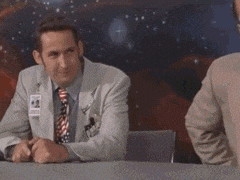 We are actually NOT calm at all, nowhere near calm, in fact, because State Champs on tour!!!! These guys kill it on every stage they grace with their presence and we're so excited that KOTNA is getting a headlining tour. Oh, and how could we not mention the opening acts? The Kings Of The New Age Tour features Young Culture, Hunny, Games We Play, Save Face, and Between You & Me as openers across tour dates and that makes an already exciting announcement even better! You can grab tickets right here, right now, don't miss out! It would be a true tragedy if you missed RSG doing his little dancey-dance on stage every night.
All this hype for the tour has us thinking about one of the most important parts: the setlist! Kings Of The New Age is a no-skip album so in a perfect world we just want that to be the entire setlist. But of course, State Champs has such a rich discography to choose from, so we thought we'd share some songs that we hope we get to see them play this tour! This is by no means an extensive setlist, just some tracks we'd love to hear (and crowdsurf to).
'Act Like That'
'Just Sound'
'Frozen'
'Simple Existence'
'Elevated'
'Sundress'
'Eventually'
'Criminal'
'Everybody But You'
'Half Empty'
'Dead and Gone'
'If I'm Lucky'
'Slow Burn'
'Losing Myself'
'Shape Up'
'Mine Is Gold'
'Cut Through The Static'
Could we have listed more? Yes, but we would've been here forever if we had so we thought it might be best to stop there. We might treat this like bingo and come back to this list to see how many songs end up on the Kings Of The New Age Tour setlist.
Are you excited for the Kings Of The New Age Tour? Are there any songs you really wanna hear that we missed? Let us know your thoughts and what city you're going to see State Champs in, in the comments below! Or, come buzz with us on Twitter or some of our other socials.
LEARN MORE ABOUT STATE CHAMPS:
INSTAGRAM | TWITTER | WEBSITE