Our lovely Brynn Elliott recently made the news with the release of her latest pop anthem, 'Tell Me I'm Pretty,' which has delivered a powerful, empowering message thus, making marks on the hearts of many of us. Co-written with songwriter Michelle Buzz, Brynn penned down a beautiful empowering song that revolves around themes of exploring identity, place, and the beauty in themselves. The song tears down the stereotypical and patriarchal constraints of living up to the unrealistic standards of beauty, women being pressured to look a certain way, and expectations of living by the outdated and obnoxious societal norms.
"This song means the world to me because it's an anthem proclaiming that my value as a woman is not based on how well I measure up to cultural standards of beauty. Ultimately, it's about finding true beauty and the freedom to be [a] real human in a world obsessed with 'image.'"

Brynn Elliott talking about 'Tell Me I'm Pretty'
'Tell Me I'm Pretty' is coated as a happy, vibrant, and upbeat song that will lift your spirits in no time. But with lyrics such as, "It's a little much, but I think it's what they want" or "Don't need nobody else to tell me, tell me I'm pretty," Brynn Elliott, being an incredibly talented lyricist, has managed to comment on how this stale outlook needs to change. The single is joined by an official music video directed by Lauren Dunn, who has worked with major artists such as The Weeknd and G-Eazy. This latest release and her forthcoming EP infuse vibrant pop with a focus on self-image and identity. 
Recently, we had an opportunity to chat with Brynn about the making of 'Tell Me I'm Pretty,' the creative process and inspiration for songwriting, Jumpstart's #Readforthereacord, and much more. Read below in our exclusive interview with Brynn Elliott!
Where do you draw inspiration for your music?  Do you think your sound is inspired by the kind of music you grew up on and has your musical influences changed over time?
I draw inspiration from many different mediums for my music be it books, films or even a conversation with my friends. Basically any place where the human story is being told is an inspiration for me. For example, my next project was inspired by the philosophy of Soren Kierkegaard (he's probably one of my favorite philosophers). I was contemplating what it means to be authentic in the age of social media when I was writing these songs. He has this wonderful line where he says, "The most common form of despair is not being who you are." For this project, I set out to write songs where I tried to be completely who I was hoping to encourage others to feel that same freedom. 
'Tell Me I'm Pretty' is an anthem for finding true beauty regardless of cultural standards, is this song coming from a personal experience? If so, what was that journey like for you?
'Tell Me I'm Pretty' is from a personal experience. The song started to take shape in my mind back in college when there was a scandal with the men's soccer team on my campus. These guys were found to have a group chat where they gave a numerical rating of the physical hotness of women on the women's soccer team. Some of these women were my friends and they were literally given a number to describe their physical worth. This experience really stuck with me and I had this line, "Maybe I'm worth more than some numbers or a score' in my head for a while and I knew I wanted to use it in a song someday. 
Then I've always been struck by the internet and how in some ways it feels like we are doing just the same thing that these guys were doing in our selfies. We post pictures and our likes can feel like a score. In an image-obsessed culture it can start to feel like that's where we find our meaning and worth. But nothing could be further from the truth. So, I wanted to write 'Tell Me I'm Pretty' as an encouragement to myself and to others that what is truly beautiful is not skin deep – but flows from how we live our lives and who we are. 
Empowerment seems to be a theme in your music, 'Might Not Like Me' and 'Tell Me I'm Pretty' both speak to being unapologetically yourself and knowing your worth. Why is this message so important to you?
The message of empowerment, of being who you are, is so important to be because it's something with which I truly struggle. I am a textbook people pleaser. I want people to like me. And sometimes that desire to be liked can take over and make me forget and betray myself. So I write these songs to remind myself of who I am to help in those moments where I am trying to please people. Instead of asking "Does this person like me?" I can instead ask "Am I living a good life at this moment? Is this true of me? Is this beautiful?" And I would hope that if there are any other fellow people pleasers out there who hear my music they are encouraged to ask those questions as well. 
Your new EP is titled CAN I BE REAL? What do you think it means to be real?
I remember having a conversation with my mom once where I was telling her about an experience I was having. It was a moment in my life where I felt really stuck. And I remember she said to me "Brynn, you feeling stuck is very real, but it is not true." I think she was saying that it was good to acknowledge how I was feeling and what I was unhappy about. There's power in being completely honest with yourself about where you are in a moment. But then this idea that my feeling of being stuck wasn't true was revolutionary for me. I had a way out of the stuck feeling through changing the way I thought about the situation by claiming that I did not want to feel stuck and moving forward in my life in ways that would help me not feel that way. But you need both of those experiences. You need to acknowledge where you are so that you can move to where you know you are called. That first self-honesty part of the process is what I think it means to be real. 
Lauren Dunn is an incredible director and has directed so many videos that are visually pleasing. What specifically about her made you want her to direct the video for 'Tell Me I'm Pretty?'
Yes, Lauren is truly a superstar. Before approaching her with my idea for the video I knew that she was obviously an incredible director. But I was looking for someone who really understood my concept for the video which was to show the historical nature of the message of my song. Women feeling the need to change themselves didn't just happen with Instagram and filters. This pressure has been here and we see it throughout history with things such as corsets. So I wanted the video to feature women in this baroque historical world with corsets and portraiture. So I have this call with Lauren where I explained all of this to her and she totally got it. Then she goes, "Well also, this is perfect because my mom is a collector of french baroque antiques and my boyfriend, Scott Laufer, is a fine artist and he can paint the portrait." It was so meant to be and she was already very acquainted with the visual world I wanted to embody in the video. She gave everything such shape and beauty. She is one of my favourite people and I couldn't have asked for a better director.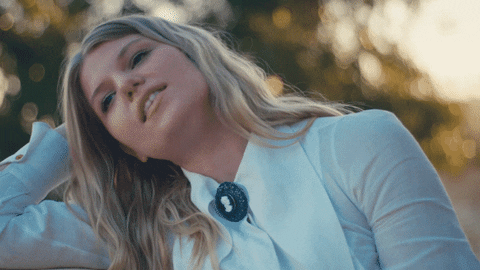 What came first for you, poetry or music? And how do music and poetry together collectively inspire you? On your Twitter, we saw your description mention "lost in poems," what's your favorite poem?
As a kid I was always writing and singing but it wasn't until high school that I put those two things together. I think they've always been there inside of me and then when they came together it was like an explosion. Reading poetry now is just a huge form of inspiration for my songs. I love any kind of short-form writing that explores a concept. That really helps me think about different song possibilities. My favourite poem is by Emily Dickinson called "Hope is the thing with feathers." It perfectly describes the feeling you get when you are hopeful. 
How was the process of balancing your studies and music? Do you have any tips for those struggling with finding a balance between their studies and passions?
Balancing school and the music were challenging at certain moments. There were some late nights and lots sending off papers for classes right before set times. But I think the biggest thing that got me through was sheer desire and will power. I so badly wanted to graduate with my philosophy degree and I so badly wanted to play and write music. So they just sort of fed into each other and helped each other along. 
To those wanting to pursue both music and school I would say really think of the "why." Let that answer drive you. And I would also say prioritize your mental health. Don't stay up all night to finish that paper or song – rest and sleep so you can be present to all of the things. 
To engage your area of study – from a philosophical standpoint, what's the intended impact of your music on society? How do you think studying philosophy has inspired you in your music career?
Songwriting for me is a form of practicing philosophy. Songs explore universal human experiences or concepts and that's what a lot of philosophy is doing. So I hope in my music to write things that people already feel intuitively and to which they can relate. I hope it helps them better feel and understand their life. I don't really directly quote philosophers in my music but for a lot of my songs, I can point back to something I read in philosophy like that Soren Kierkegaard quote that inspired this project. 
You recently got involved with Jumpstart's #Readfortherecord. Can you tell us more about that and how important was reading to you as a child?
Yes, I love Jumpstart and the incredible work they are doing to aid early childhood development, education and literacy. Pre-pandemic, I was even able to perform for some of their students and it was the most rewarding and exciting thing to see kids amped about reading. As a kid, reading or even just being read to by my parents was a big catalyst for my imagination. I would say was probably one of the things that eventually led me to songwriting. So, I love Jumpstart for doing just that and inspiring kids to use their imagination in powerful ways that will undoubtedly shape their lives as they grow. 
And we have a fun question for you! In past interviews, you have spoken about your love for coffee. What is your go-to Starbucks order?
Ah, I love this question and yes my coffee obsession is really next level. My Starbucks order is a coconut milk latte (hot or iced depending on my mood) with just a pump of one of their delicious syrups because I don't like my coffee too sweet. Recently, I've been going for a pump of raspberry syrup and it's just delightful. 
For us, Brynn Elliott has done a commendable job by penning down a song so personal to her that left a massive impact and connected to our hearts instantly or anyone who listens to it. What about you? We would love to know your thoughts on the latest tune, 'Tell Me I'm Pretty.'
Let us know in the comments section below, or you can also tweet to us at @TheHoneyPOP! We are also on Facebook and Instagram, so come and say hey!
Want to read more about what your favorite artists have to say? Say no more!
TO LEARN MORE ABOUT BRYNN ELLIOTT:
FACEBOOK | INSTAGRAM | TWITTER | WEBSITE | YOUTUBE
Featured Image Source: Brynn Elliott- Artwork for 'Tell Me I'm Pretty' via Twitter
Khushboo Malhotra
Khushboo Malhotra works as a freelance journalist, digital marketing & media strategist, and content marketer featured in various global and national media publications and works alongside B2B, B2C, and eCommerce brands. A wide range of her work spans music and entertainment culture, sustainable lifestyle (including sub-niches), and SaaS. She enjoys writing novels and designing screenplays, grooving at concerts, or exploring new fashion and cuisines that tickle her taste buds when she is not working. Have a story? Get in touch: khushboomalhotra24@gmail.com