Jagwar Twin invites us all to party with him in yet another interactive experience with multiple layers to the website that only unlocked once enough people attended the party. Released on the 21st of July, ahead of his next single 'I Like To Party.'
[apple_music_ad artist="Jagwar Twin"]
We're all for parties, especially if it involves cake! But beware, it does give us a disclaimer as we enter about how mind-bending the experience will be. Enter if you dare. 201 people were needed to attend each stage to unlock the next. 201 is an angel number with a message of encouragement to have a positive attitude.
Realm 1.
We had to eat a virtual slice of cake to unlock only the first portal. Greeted by a scenic, bright background with more renaissance styled art over it, and of course more cake. What even is a party without cake?
The background is very similar to the old-styled Windows background, which gives us a nostalgic feel. There are snakes featured which could signify that in Christian tradition they are associated with lies, evil, and temptation. The use of flowers and leaves on the website could portray a garden and in the Christian story of the garden of Eden, a serpent tells Eve to eat the forbidden fruit, this comes back to lies, evil, and temptation. The slices of cake are interactive too, slowly showing us parts of the song!
Realm 2.
Mirroring is a common theme in Jagwar Twins' newest projects, he's spoken a lot in the past about the importance of mirrors. We reflect on everything we see and experience. We are reflections of everyone else just as much as they are reflections of us. The whole site has a perfect mix of modernity and old-fashioned things. The use of headphones, LP records, and phones make us feel somewhat comfortable and familiar.
We also picked up on some potential hints to Jagwar Twins' past hit 'Happy Face.' Throughout the experience, skulls are a focal point. Does the phrase "death of my generation" ring any bells for anyone else? Likes on Instagram pop up in this realm too and as they do, the facial expression changes, implying that we rely on social media to make us happy.
Realm 3.
We made it to… hell? There is fire everywhere and we are burning with anticipation to get to the end of this journey. Plenty more to unpack here, as expected. Devils are the personification of evil and are known as a destructive force, evil is a consistent theme through this website. Everything is on fire, which can mean a various amount of things, however, if we stay on theme, it ties to death and pain, but can symbolize wisdom and knowledge. Not all hope is lost.
To finish this whole thing off, there's an early listen to the song. 'I Like To Party' is nothing short of musical perfection, it is heavily inspired by Tim Burton, hence the borderline creepy sound of it. Jagwar Twin never misses when creating absolute masterpieces of songs, another banger and we couldn't be happier.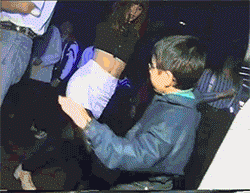 CTHDRL have created all of Jagwar Twins' interactive websites so far. Including the 'Happy Face' and 'Down To You' experiences too. The hard work and effort put into making these sites will never go unnoticed or unappreciated.
Let us know your thoughts and what you unpacked by chatting with us on our Twitter, we're always open for discussion.
TO LEARN MORE ABOUT JAGWAR TWIN:
FACEBOOK | INSTAGRAM | TWITTER | WEBSITE | YOUTUBE
Featured Image Source: CTHDRL for intheclub.party