It is no secret that we here at THP HQ are obsessed with You Me At Six. We've been around since the early days, we jammed out to Sinners Never Sleep AND enjoyed its 10th anniversary, and we're super excited for their new album Truth Decay. If you're just as excited as we are, you'll be pleased to learn that it's going to be ours on January 27th. That's not that far? Right???? *insert that one melting emoji here*
What's not to love about this band honestly? They're always pushing boundaries with their music and it's part of what makes it so amazing. Oh, and 'Take on the World' exists, that's it. That's the tweet. That's reason 1-10 alone. Jk, jk, there's lots to love about YMAS. They even have a new single out called 'Mixed Emotions (I Didn't Know How To Tell You What I Was Going Through).' Check out what lead singer Josh Franceschi had to say about their upcoming album and more!
We love both YMAS and Enter Shikari, how did this collaboration on 'No Future? Yeah Right' with Rou come about?
The collaboration between ourselves and Rou from Enter Shikari really stemmed from a moment in time in the studio where we were putting together the track and just felt like it would really benefit from somebody else's energy and approach especially from the bridge onwards. I instantly thought of Rou. I've been a fan of Enter Shikari ever since we played with them back when we were 15 / 16 years of age down local 'youthies'. It was kind of a no brainer, and I just messaged him and asked if he'd be interested. It was awesome because he as excited to be asked as I was for him to say yes so that was a really lovely moment. He brings such ferocity that it can just elevate it. He also added some prod also so definitely contributed more and more of that energy and Enter Shikari signature sound to that YMAS track.
Josh, you've said this song is about breaking the chains of a negative cycle. What do you find works best for you all when trying to change or remove yourself from toxic situations?
Ultimately, I think yes this song is about trying to break a cycle. It's more about how to escape from the grasp of people who were harbouring negativity really. In regard to the band it was pretty simple, we thought we have to change this situation, we've got to get out of this situation, it's not serving us. Generally speaking, and individually speaking, I try my best to get through a moment and see where it lands, but when I realise that it's not a healthy one I just cut it off. You've got to cut the head of the snake if you like, I feel like that's the same with any toxic situations, it's just about 'abort mission and get out.'
You recently released the 10th Anniversary Edition of Sinners Never Sleep. How do you think the band has evolved since its original release? Has your approach to creating music changed a lot?
I think ultimately when we put 'Sinners' together that was a chunk of time ago, you'd hope that the band would evolve in that time. I think it has just really been us learning. The first few records we made everything was on power mode, between the age of 18 and 23 I recorded 4 albums with the band and so really it was learning on the spot, which was amazing in the sense that we didn't second guess anything, everything was just natural and what we wanted to do. I feel like we've really had time to learn our craft in the last few records, understand a bit more what we think our strengths are and experimenting with sounds. I would say comparatively when we were making a record like 'Sinners' it was "we've written some songs in this rehearsal space and now we'll go to America, and we'll record them as they are." Now when we make music we'll demo something 2 or 3 times, completely rip the song apart, add extra production, add extra textures. I guess the 'Sinners' process was slightly more naive whilst still maintaining being earnest. I feel like we've grown up a bit and figured out what we're doing.
After the successes of VI and SUCKAPUNCH, how have you found the transition back to a heavier rock sound?
Truthfully both *VI *and SUCKAPUNCH had some success, in particular *SUCKAPUNCH* being a No.1, which was amazing especially being at the tail end of a difficult time globally / universally for everybody with the pandemic. For musicians it was difficult not being able to do your job at all, so being able to get a No.1 during that time was a really nice lift. Ultimately as songwriters the transition was pretty simple, we sat round a table and talked about what we wanted to achieve with this band and this album. It was really about rediscovering our old position. With *SUCKAPUNCH* we felt like we were in an endless pursuit of reimagining the band and redefining what it meant to be You Me At Six and trying all these different things, proving to ourselves that we could do any type of genre or sub-genre and we could implement it seamlessly into our band. It felt good at the end of it, but I wanted this record for us to say "who is You Me At Six?," "what is You Me At Six?." Sometimes you need to look back on where you've been and who you were to know where you're going and who you are now. It was pretty simple in that sense because we just listened to a bunch of You Me At Six songs, chatted about what we like about our band and just got to work and let it happen organically, and it did.
Did you approach Truth Decay any differently than you approached SUCKAPUNCH?
Our approach to this album was completely different. SUCKAPUNCH was dare I say, a shot in the dark and it was quite reactive. We went to Thailand I would say perhaps a little prematurely in the sense that we had a handful of songs but we definitely didn't have an album. We were writing on site, I think we did about 4-5 of the songs whilst we were there. With Truth Decay that wasn't a problem. Pretty much everything had been written musically, we did a bit of pre – production while we were there but fundamentally it was a bit more organized with a clearer direction. With SUCKAPUNCH we didn't know what kind of songs we were making, which was exciting as we didn't know where the songs were going to take us. Whereas with Truth Decay we knew the identity of the record, we'd spoken socially what we wanted it to feel like. It was just about finessing and executing those songs. It was still totally enjoyable but there was just a clearer headspace and direction which ultimately left a lot more time to write lyrics and melodies without being concerned and being in the room. The guys knew that I could then be showing them stuff way ahead of time whereas with SUCKAPUNCH sometimes because I wouldn't know exactly where the song was going to land it could be 2 weeks between starting to record a song and me actually singing on it. With Truth Decay it was very much instantaneous, we'd record in the morning and afternoon sing in the evening.
There's been a lot of different stages of evolution in your music over the years. If you had to give this album, era, and sound its own name or feeling/vibe, what would you pick?
If I had to give this particular era of the band a name I feel like it would be somewhere between "self-discovery" in terms of re-discovering ourselves but I've been calling everything at the moment the "f*ck it" stage where it's just about at this point maintaining our authenticity and collective enjoyment.
You've had the opportunity to work and tour with a wide variety of bands and artists in your career. What interactions come to your mind when you think of opportunities that really helped you become the band you are today? What would you say really stuck with you?
This is always an easy one for me, at the start of this band's career we did a lot of touring in the UK, Europe, Australia, various spots around the world with a band called Paramore. They were great for us in terms of just them being the same age but in a much bigger band. It was like a constant tug on our ambition of "hey this is happening for them, this can happen for you." They were always very kind and shared their experiences with us and Hayley spent a lot of time giving me advice as did Jeremy. They showed us what it was to be a young and successful band but also how to treat people with absolute humility, empathy and acceptance. It was a pretty concrete reminder for us on how you treat one another and how you treat the bands you tour with, the people you work with, is just as if not more important than the songs and music you make. So Paramore for sure. I think in more recent years I think our being around our peers either in the studio or on the road you learn. You have to look at every time you get in the studio or you get on stage as an opportunity to learn.
(THP Note: honestly taste, we love Paramore in this household)
What would you want to go back and tell your younger selves to prepare you for the point of your career you're in right now?
I would probably go back and tell my younger self to strap in and enjoy the big moments, be focused but actually take in the moments. I feel like I was hard on myself when I was younger, maybe there's a part of that that has led to the band being where we are now but I was the one that didn't enjoy myself as much. I don't think I had more than a glass of alcohol the night we headlined Wembley Arena, I was 22 years old. I was just thinking "what's next? How are we going to do the next one?." I think I would want to grab him and tell him that the journey's more important than the destination and the company even more so and to enjoy it as much as possible because it's going to go by really quickly.
We're stoked for the OOR tour to start! Can you share the story of how you and One Ok Rock first met and how the decision to tour together came about? What song are you most looking forward to performing?
We'd never met One Ok Rock before, we'd never spoken to them before and we got an email saying "do you want to go out on tour with One Ok Rock?" And we thought "That sounds good, sounds fun!" We didn't have any plans for America for this year and it just came at a really great time. The shows have been amazing and they're lovely people, very sincere and kind. Their audiences are very receptive and willing to discover new music which is awesome. When you're trying to do a support tour it's tough when you go on stage and people are standing with their arms folded or on their phones or don't care, so we're very grateful to the One Ok Rock fanbase for giving us an opportunity to hear us do our thing. Ultimately, we're looking forward to showing people what we've got and in these last few shows showing them what we're all about and just continuing to enjoy playing live music.
Only three months after the tour ends, you'll be setting off on your Truth Decay Tour! After over a decade of touring, are there any tricks you've learned that keep you sane and energized on back to back tours like this?
The trick to not going insane on tour is don't look at the laminate, don't count days, don't count how many days until this happens or that happens. I try to just wake up and go "where am I today?" and take each day as its own entity entirely rather than lumping them all together and thinking "there's only 10 shows left and then we're home," no enjoy what's happening. The other day in Vancouver we got up, we went for a nice lunch, I went for a walk along the harbour for like 2 hours just listening to music, I thought I can't do this at home, when's the next time I'm going to be in Vancouver? I'm not going to wish for tomorrow I'm going to enjoy today and that's how I think you don't go crazy on tour is don't wish away the days and be active, don't sit around and wait for the days to be over, be active, be productive and encourage those around you to be positive and then you've got a good chance of enjoying it.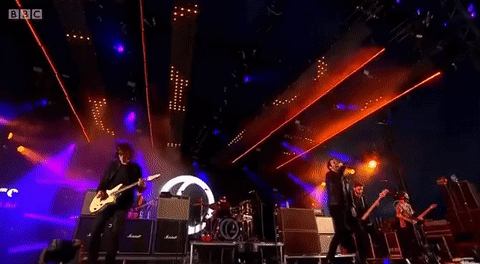 How do you usually prepare when you're gearing up for a tour? How do you go about creating the perfect setlist?
What will usually happen is we will sit down and we'll dispute for a couple of hours on which of our songs do we think are the most popular ones, then we'll revert back to type and then probably play only the songs that have done well on streaming services, then we'll go "well no f*ck that let's do what we want to do" and then it will end up somewhere between the two. But actually on this tour we've switched up the sets and moved stuff around and taken stuff out when things weren't working. We just try and have a set that ramps up throughout the whole thing so that we can give the audience for 45 minutes or if it's a headline tour an hour and a half the very best of what we've got.
A huge shoutout to Josh for taking the time to chat with us. We're super stoked about Truth Decay, which you can pre-order here, and this has us even more hyped! How much do you love You Me At Six? Are you excited for the album? What do you think of the new single? Let us know in the comments or drop us a line on Twitter of the rest of our socials!
Want more YMAS? Yeah, we got you.
TO LEARN MORE ABOUT YOU ME AT SIX:
FACEBOOK | INSTAGRAM | TWITTER | WEBSITE | YOUTUBE