https://vine.co/v/OXjTeFxXipb
https://www.instagram.com/p/CAmyzJkAOSf/
Kim Jonghyun is best known for being SHINee's amazing main vocalist. We here at THP are absolutely in love with him and can't get enough of any tiny Jonghyun crumb we can get our hands on. You might know Jonghyun as the smallest but most certainly talented SHINee member with power vocals.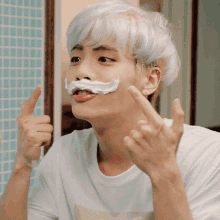 But besides being an amazing singer-songwriter, Jonghyun is also incredibly funny. The idol has made Shawols laugh for over a decade, and each of those moments is incredibly precious to fans. So, to celebrate his life and legacy, today we summarized these nine funny Jonghyun moments, which will make you laugh so hard you might cry. Have the tissues ready- this is going to be fun!
Where Are You, Jinki?
While they were practicing for their first-ever SHINee World concert, this funny moment happened. Jonghyun was testing the microphone asking where his fellow SHINee member and leader Onew was. The "Where are you Jinki" has become a meme since then and remains one of the most lighthearted and funniest moments. The moment Onew replies "I am here … behind you" will send you into a giggling fit!
Jonghyun Trying To Compliment Minho
Jonghyun's Twitter is a present that keeps on giving. The idol was completely letting loose on it and giving Shawols some of the funniest and most unexpected content. The tweet we want to, especially, mention is when Jonghyun tried to compliment his fellow member, Minho, for his good looks while watching him on a K-Drama. But, instead of uploading the K-Drama screenshot, the singer uploaded a picture of a field. He later wondered why a field was uploaded and attached the right picture to a new tweet. The field had not only Jonghyun confused but also fans. It remains one of the funniest tweets by him.
Jonghyun Krumping
If you have been a Shawol for a while, you will know this moment. SHINee was reminiscing about one of their debut era CF's where they did different dance moves while advertising a noodle snack. Jonghyun was demonstrating his intense krumping, which he did in the CF, but he slipped and fell on the floor. The moment is an instant laugh, and never gets old!
Screaming In Falsetto
Jonghyun is a powerful vocalist, and while the group was on a Japanese variety show to celebrate the holidays with Shawols, they were playing a very intense game with a toy dog. The moment Jonghyun tried to steal one of the dog's bones, he attacked and Jonghyun was so shocked he screamed in falsetto! The moment is not only iconic- but also hilarious.
Jonghyun And Roo
There are plenty of funny "Jonghyun with his dog Roo" moments, but the moment we can't help but giggle at every time is when Roo farts after Jonghyun was showing her affection on Instagram Live. Jonghyun can't help but giggle himself. The pair have given fans so many cute and funny moments, but this one remains our favorite.
Scared Of Bubbles
Bubbles are usually not something to be scared of! But when a fan gave Jonghyun a gift at a fansign, he is completely surprised when bubbles start being released from the toy's mouth. This moment is so pure and so funny. We can't help but rewatch this moment and smile, while all the fans present also start to laugh!
Rock Paper Scissors
This moment was brought to us by SHINee's member Key. He uploaded this video of a passionate game of rock, paper, scissors between Minho and Jonghyun on his Instagram account. The tension between Jonghyun and Minho is so high, and they are so passionate about this game it is absolutely hilarious! Just look at them go!
Bling Bling Is Jonghyun
SHINee's SNL episode is one for the books! Their appearance on the show gave Shawols so many amazing moments, but the most iconic remains Jonghyun dressing up as a monk and chanting "Bling Bling is Jonghyun," which is his tagline as a SHINee member. You can't help but not laugh!
Hello Baby
We could have inserted the entirety of Hello Baby on this list. The amount of quality content SHINee provided fans when they appeared on the variety show is pure gold! If you haven't seen it, we recommend you do it- it's a classic. Jonghyun had some of the funniest scenes on the show, the one we want to highlight, especially, is when one of the babies ran full speed into his crotch. Not only could SHINee not stop laughing, but also fans!
There are many more fun moments the singer gave fans throughout his successful career. SHINee is known to be absolutely hilarious, and never fail to make SHawols laugh! We hope you enjoyed these nine moments of this precious person and had a laugh or two. What is your favorite funny Jonghyun moment? Did your favorite moment make our list? Let us know in the comments below, tweet us @TheHoneyPOP, or talk to us on Facebook or Instagram!
Need more K-pop content? We got you!
TO LEARN MORE ABOUT SHINee:
FACEBOOK | INSTAGRAM | TWITTER | VLIVE | YOUTUBE
Featured Image Source: Courtesy of SM Entertainment