Louis Tomlinson's world domination era has just entered the chat. As we type this, our hands are still shaking, and in fact, we had to have a little lie-down. Our sunshine, our comfort, and our sass master from Doncaster, Louis Tomlinson, has just announced his rescheduled world tour for 2022, with new dates and venues added and more to come! And unless you've been living under a rock, you also know that we have label news! Louis has officially signed under BMG.
Not to mention, LT2 is on the way … And now we need to lie down again! Louis told us all to have "Faith In The Future," and he wasn't wrong. We've scoured social media to find all of your burning questions, and we're gonna answer them for you! Because we're just nice like that! Plus, we wrote a letter to Louis with our inner simp ramblings! So, stick around with The Honey POP – If you're a Louie, we think you're gonna like it here! We highly advise that you stream Walls to set the mood!
[apple_music_ad artist="Louis Tomlinson" Song="Walls"]
Faith in the future

— Louis Tomlinson (@Louis_Tomlinson) March 26, 2021
The Scoop On BMG!
We've researched Louis's new label BMG, so you don't have to! You're welcome!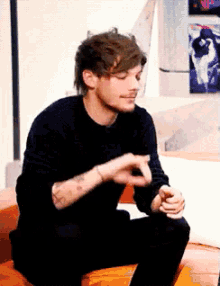 BMG was formed in 2008 in Berlin and describes itself as "a new kind of music company." They are not just a music publisher or record label; BMG combines both. So what does this actually mean? It means that BMG does not rely on any of the big three music labels or publishers, as is often the case across the industry. The big three are Universal, Warner, and Sony.
There is some confusion amongst fans online about a past entity called Sony BMG Music Entertainment. To confirm, this company was a shared venture between BMG Rights Management and Sony Music, and it was defunct in 2008, with BMG selling its 50% shares to Sony. BMG is not a joint venture with any of these 'big three.' It does it all itself!
BMG's artist roster currently includes Craig David, Kylie Minogue, Good Charlotte, David Bowie, and Avril Lavigne!
BMG states on its website: "We know that songwriters and artists don't work for us – we work for them." Their values lie in "Fairness, Transparency, and Service," including in new transparent contracts.
BMG also, amongst other recording labels, owns Rise Records, which is mainly focused on heavy metal and punk rock music and artists. In 2015, BMG bought the Rise Records label. You will have seen Rise Records tweet welcoming our Louis into the family! We don't yet know the details of what this means, or what this will look like in the future, but we are very excited by this punky vibe!
Yep, we're crying again. Louis Tomlinson deserves no less than the respect promised by BMG. This label news feels like we're standing on the precipice of a new age for Louis, and as fans, all we want in the world is to see Louis happy and respected. BMG, that's your cue.
"We are delighted to welcome Louis to BMG. He is already busy working on new music, and we are excited to join him on the next phase of his extraordinary career."

Jamie Nelson VP A&R at BMG UK
The Tea On The Tour!
Imagine 12,5000 Louies screaming Defenceless together, as Louis Tomlinson sings, smiles, and does his little finger point to the ceiling, tummy touch combo. Well, you don't need to imagine it! It's happening! And The Honey POP will be right there with you! Amongst the rescheduled tour dates, Louis has announced a headline show at London's SSE Arena (That's Wembley to you and us!) And Wembley has a 12,500 person capacity! We are so proud of him that we could physically turn ourselves inside out. But we know that with tour changes comes anxiety for fans too! So here's everything we know about the tour changes, plus soothe your soul with Breaking Down Walls: Chapter 3, all about the shows and us, the fans!
Specifics:
London: Yes, anyone with tickets for the original London Roundhouse shows, your ticket remains valid for the new show. Standing or seated tickets will also be honored for the new venue. If you have purchased tickets for both original London shows, you will be able to request a refund for your additional show. Contact your point of sale.
Tickets will transfer to the rescheduled shows, in most cases. However, tickets for some shows, specifically LA and Melbourne, will be refunded, and you will then be offered pre-sale replacement ticket access to the new upgraded shows.
General tickets for this wave of newly announced shows go on sale in a few days. Check when your preferred show goes on sale, as well as your ticket validity, right here!
This tour date announcement is only round one of the rescheduling, with more dates still to be announced – so if you haven't heard about your own show yet, breathe! It's coming!
Dear Louis
Louis William Tomlinson, we are so incredibly proud of you. It's hard to even put it into words. You have constantly checked how we are all doing through the last year and given us hope and support through a really scary time. You've supported so many grassroots charities and used your platform for good. You have given us music that gets us through our darker days. You have treated us, your fans, like your friends. We know the road hasn't always been smooth over the last almost 11 years, but you continue to persevere, and you inspire every single one of us every day.
This is your time Louis. You've gone from a world tour announcement of reasonably small venues to now, with a headline Wembley gig. We hope that maybe a small part of those decisions came from seeing the love and support we all have for you. From parting with Syco, you've signed a partnership with BMG, who, although it's early doors, sounds like they're committed to giving you the respect you deserve. Your documentary is coming. You're starting an artist management company to give aspiring artists the support they need. You are making your second album. Your live streamed gig was one of the most-watched live-streamed gigs in history. You, sir, are a force to be reckoned with, and we speak on behalf of all Louies when we say it is an absolute privilege to share even a small part of that journey with you. We love you Lou. We made it.
Are We All Okay?
How are you feeling about all of the Louis news? Are you going to a rescheduled show? We wanna talk about it! We need to process all of this information with you! Make sure you hit us up in the comments, tweet us at @thehoneypop or visit us on Facebook!
In case you haven't realized, we are massive Louies and complete simps! Check out our other articles where we lost our minds over Louis, right here!
TO LEARN MORE ABOUT LOUIS TOMLINSON:
FACEBOOK | INSTAGRAM | TWITTER | WEBSITE
Featured Image Source: Ryan Saradjola