Dreamctzen assemble! Our boys from NCT Dream just released the fun, bright bop 'Hello Future' as the title track of the repackaged version of their May album Hot Sauce. We can't get enough of how versatile these boys are! 'Hello Future' takes the boys back to their beginnings when they served us gems like 'Chewing Gum,' 'My First and Last,' or 'We Young.' Make sure to listen to the album right here and watch the music video below.
Isn't the music video so much fun? The colors, the dancing, and Haechan's ad-libs are everything to us. Have 7Dream ever looked better? We think not! 'Ridin" the wave of fantastic music by this particular NCT subunit and being absolutely obsessed with the new album (Hello? 'Life Is Still Going On' is a bop!), we thought it was time to look back at Dream's amazing discography and give you seven songs to add to your playlist!
[apple_music_ad artist="NCT Dream"]
'My First and Last'
Four years old and 'My First and Last' is still going strong! The groups' first comeback is still one of our favorites and demands a spot on your playlist! The music video looks like the boys from NCT Dream had an absolute blast filming. We wish we were their friends really…
'Fireflies'
We never expected to see NCT Dream team up with The World Scout Foundation and bringing us a song like 'Fireflies.' Even less did we expect it to sound this good? Honestly, this is the song and you know what? It's also completely performed in English. NCT Dream just always deliver.
'1,2,3'
We Go Up was really that mini-album for NCT Dream and the B-sides are so good, we could hardly pick a favorite. In the end the groovy and fun '1,2,3' came out on top. C'mon, how can you not shimmy your shoulders to this jam?
'Don't Need Your Love'
SM Stations never fail to bring us an unexpected bop and collab. HRVY teaming up with NCT Dream to bring us 'Don't Need Your Love' is one of the best things ever to happen and the song hits the spot just right.
'We Young'
"We just wanna have fun / 'Cause we hot, and we young," Mark Lee has spoken! Is there any more convincing you need to add 'We Young' to your playlist? The 2017 summer single aged like fine wine and just gets better with time. The music video is also pretty wild and a fun watch. Go add it to your playlist now.
'Puzzle Piece'
Reload made 2020 less grey and dull and 'Puzzle Piece' especially kept us company through that year! For some reason, we are getting major country Miley and Taylor vibes from this song and it works so well. If you need a slower song for your playlist, 'Puzzle Piece' is the one!
'We Go Up'
After NCT Dream released 'Go' for the NCT 2018 project something shifted in the universe, the boys are grown up and left the bright concept a bit more behind. 'We Go Up' marked the beginning of a new era and it just bops as hard as the rest!
And that's a wrap! Of course, there are many more fantastic songs NCT Dream have in their discography and we had the hardest time narrowing them down to seven. But we did it! Now, we are back to bopping to 'Hello Future,' if you are looking for us, we'll be there.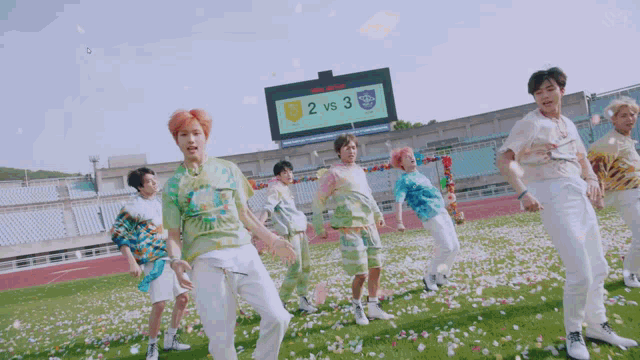 What do you think about 'Hello Future?' What's your favorite NCT Dream song? Let us know in the comments below, tweet us @TheHoneyPOP or talk to us on Facebook or Instagram!
Want more NCTzen content? We got it covered.
TO LEARN MORE ABOUT NCT DREAM:
FACEBOOK | INSTAGRAM | TWITTER | YOUTUBE
Featured Image Source: Courtesy of SM Entertainment