https://www.instagram.com/p/CPangHzjOOy/
Fans have had a long-running joke that Taylor Swift is the music industry, and based on the rampant success of Red (Taylor's Version), an expanded rerecording of her 2012 album, the claim is not at all too far off. Taylor just got her tenth consecutive #1 album on the Billboard 200, and even though she's the first female artist and third artist overall to reach that milestone, that's just one of the many impressive feats she pulled off with Red!
[apple_music_ad artist="Taylor Swift"]
It's no surprise that Taylor is a beast when it comes to sales and digital consumption, so it makes sense that Red (Taylor's Version) debuted with 369,000 physical sales and 605,000 units overall in the U.S. during its first week. 114,000 of the physical sales came from vinyls, giving her the biggest vinyl sales week of all time and beating the record she set with evermore, which sold 102,000 copies when it came out on vinyl earlier this year.
Taylor has enhanced each of her rerecorded albums with a selection of Vault tracks that didn't make the official album, and every Vault song on Red (Taylor's Version) charted on the Billboard Hot 100! Highlights include the introspective 'Nothing New,' a Phoebe Bridgers collab that went to #43, and the Ed Sheeran-assisted escapism fantasy 'Run,' which hit #47.
'I Bet You Think About Me,' a Vault track featuring country superstar Chris Stapleton, even got the single treatment with a push to country radio and a stunning music video directed by Blake Lively. The song hit #22 on this week's Hot 100 and closes with a sassy clap back to the negative (and sexist) press Taylor received at the time Red originally came out:
When you say, 'Oh my God, she's insane, she wrote a song about me'

Taylor Swift on 'I Bet You Think About Me'
But perhaps the true shining star of Red (Taylor's Version)'s numbers is 'All Too Well,' a longtime fan-favorite track that has also gotten praise from Rolling Stone's Rob Sheffield, who called it her best song of all time. Taylor celebrated her fan's love of the track by releasing the elusive ten-minute version – she initially had 10+ minutes worth of material that she cut down to create the song fans adopted as a cult classic.
She also treated us to a short film based on the song's lyrics, an acoustic version at New York's AMC 13 Theater, a Saturday Night Live performance, and a "Sad Girl Autumn" rendition recorded at Long Pond Studios in upstate New York. What a productive queen!
Thanks to not only fans' dedication but also the general public's newfound love of the track, 'All Too Well' shot to #1 on the Billboard Hot 100, making it Red's second #1 after 'We Are Never Ever Getting Back Together' topped the chart in 2012 and the longest-running song to ever hit #1. She beat Don McLean's 'American Pie,' which runs at 8:37 and held the record for just under 50 years.
'All Too Well' also marks the third time Taylor has debuted at #1 on both the Billboard 200 albums chart and Hot 100 songs chart in her career, after doing so with folklore and 'cardigan' and evermore and 'willow' last year. She's the first artist to ever achieve this double-debut three times and it marks her 30th top 10 hits, making her the female artist with the third-most top 10 hits of all-time after Madonna (38) and Rihanna (31).
With the Taylor's Version era upon us, Red has become an even more special project for fans and Taylor herself. The record mostly touches on a catastrophic heartbreak she dealt with, and now she gets to celebrate her artistry and growth knowing she got through it and emerged a stronger person. Red (Taylor's Version) is a statement on evolution, storytelling, and the power of a young woman who's never ashamed to speak out about her experiences.
What's your favorite song on Red (Taylor's Version)? Let us know in the comments below or hit us up on Facebook, Instagram, and Twitter!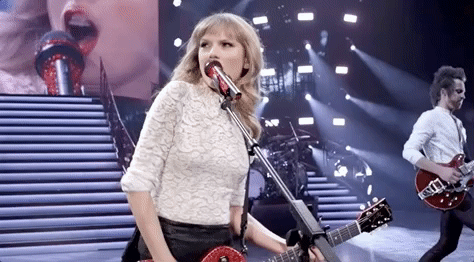 TO LEARN MORE ABOUT TAYLOR SWIFT:
FACEBOOK | INSTAGRAM | TIKTOK | TUMBLR | TWITTER | WEBSITE | YOUTUBE
Featured Image Source: Beth Garrabrant