Listen, we need to talk about Jade Thirlwall. We all know the singer is talented, beautiful, and an icon in girl group history alongside her Little Mix bandmates, but we need to talk more about her sense of humor. Mixers know just how hilarious this gal is. But it's time we brought the attention to locals and others not in the Little Mix fandom because who doesn't need a comical genius in their lives? Exactly.
While she is making history in one of the most prominent girl groups of our time, Jade still knows how to stay humble and be completely relatable. This shines through in her comedic streak that we see so often.
Her Instagram captions are pure gold
Jade knows not to take herself too seriously and can poke fun at herself at the expense of some lighthearted jokes, and her Instagram captions reflect this perfectly. She could be Vogue-ready in the photo but scroll down, and you'll see an utterly memeable caption. One that will at the very least get you exhaling through your nose repeatedly, if not entirely busting a lung laughing.
She is a walking reaction meme
— semi ia • t h i a▽⁷🧸 (@littlemix_twt) June 17, 2020
No matter where she goes, you can pretty much guarantee that Jade will manage to make a meme of herself. She's always pulling silly faces and clowning around, and Mixers are usually able to capture those priceless moments and turn them into reaction memes. Our camera roll may or may not have an entire album dedicated to them, giving us a Jade meme for every occasion.
She's often funny without even trying to be
Even without meaning to be, Jade is just pretty damn hilarious. Like the time when she knew her drunk self would need a bite to eat during a night out on the town, so she packed herself something to eat – Dairylea Lunchable Stackers of all things – and later thanked her past sober self for being so thoughtful and caring. Honestly, how do we become her bestie?
When she made her SkinnyDip Collection an entire mood
Image Source: SkinnyDip London
When working on her SkinnyDip Collection collaboration, Jade said: "comedy, but make it fashion." The entire collection is full of quotes and images that are a whole damn mood, with designs like "TRASH" written in gems, "get me off this planet" in a space theme, and of course, her face printed on top of the artwork. We're proud owners of some of the collection but let's be real; we need it all. And so do you.
She even clowns in music videos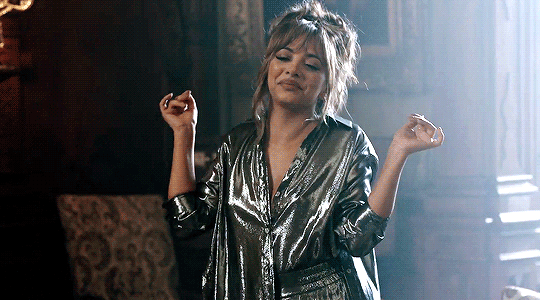 There are many Little Mix music videos you can watch, and if you pay enough attention, you can see Jade up to her antics. From dramatically throwing Leigh-Anne's phone away in 'Hair' to several scenes in 'Woman Like Me,' Jade can always bring a comedic side to anything, which makes it all that bit more iconic.
She can crack a good witty pun
Her quick thinking often leads to her cracking some pretty flipping funny and witty puns. And it's not uncommon for her to break her celebrity-looking Insta feed to post something random that's sure to crack a smile when you're scrolling through the gram.
She's still easily pleased over the smaller things in life
Little Mix are BRIT Award winners, MTV EMA winners, and a chart-topping girl group, but she measures her success in… biscuits for Jade. When McVitie's Biscuit Club made her an exclusive member, our Jeed was in her oils and knew that she was making it in life. Honestly, a whole mood, and we can't even fault her here.
She makes the most of a bad situation
Jade's sense of humour is UNMATCHED. pic.twitter.com/frUMjnJG5u

— Jazz💜 (@sleepingpixiee) January 21, 2021
Back when the UK first went into lockdown in 2020, many people were stressing and in need of getting back to normal. Meanwhile, Jade made the most of the situation and created a high-end fashion shoot using household items. And she werked it, baby!
At the end of the day, it's safe to say that our Jadey is one of the funniest artists out there, and we're proud to stan!
What do you think is the funniest Jade moment? Do you stan her and Little Mix? Let us know down in the comments below or by tweeting us @TheHoneyPOP!
Looking for more Little Mix? We gotchu
TO LEARN MORE ABOUT LITTLE MIX:
FACEBOOK| INSTAGRAM | TWITTER| WEBSITE
Featured Image Source: Little Mix via YouTube
Jazmin Williams
Creative Director of The Honey POP. Disney and pop culture enthusiast.